A bold new era begins for a de-powered Man of Steel with 'Truth'.
STOP. If you haven't read up on what's happening with Superman right now, then there will be numerous spoilers in this review.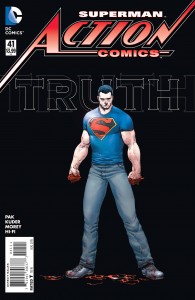 Right off the jump, as we come off of DC's big event book Convergence, we find that Superman is a shadow of his former self. If you haven't read Divergence (the Free Comic Book Day special from DC) or the recent Superman books, it's basically like this: Superman has had a very bad year.
He'd been infected with the Doomsday virus and developed a mysterious new ability- the power to go nuclear and expend all the solar energy that he stores to power his extra-human abilities in one blast. It's a devastating power, but one that left him with a 24 hour recharge time in order to get back to super-strength. And although the details are yet to be revealed (they'll play out in John Romita Jr's Superman book), we do know there was some kind of problem and his super-powers faded away… well, not fully, but quite a bit.
As a result of that, fellow reporter Lois Lane uncovered his identity as Clark Kent (also detailed in Superman) and outed him to the world. So with his powers on shaky ground, and his civilian cover blown for every one on the planet (including an army of super villains and some authorities, who're now out for his head), it's not a great time to be the Man of Steel. For him anyway.
And I add that because it makes for some awesome reading. Maybe even more than the massive changes to Batman (because, let's face it, Bruce will be back eventually), I was dreading this alteration to the Superman mythos. For starters, his Clark persona is a very important part of who this character is, and his powers (which make him almost godlike) are too. If you take those away, what do you get?
As the name of the new arc says, you get 'Truth'. And that truth is that, even with all the trappings of being a superhero stripped away, Clark Kent is still very much Superman. He might be a Superman with no costume (see Divergence) and limited abilities, but he's still Big Blue alright.
Action #41 sees Clark traveling across country, dealing with some very low-level problems that he would have been able to laugh off before, and reintroducing himself to Metropolis. And this is a version of the City of Tomorrow that's gotten significantly darker in his absence. There's something brewing and it's not good.
While most people still love the Man of Steel, there are plenty who don't, some who fear that the Doomsday virus is still alive and communicable, and an insidious force working within the police department that's up to… something.
As for Superman, he wears an old school Supes tee (which looks awesome) as a costume and has no need for a 'human' identity (though he still calls himself Clark Kent). He can leap super-far/high, but not fly, and still is super-tough and strong, but way more vulnerable than ever before and that makes a huge difference in this story, and what might be on the way in the future.
Greg Pak and Aaron Kuder's script is flat-out excellent. Superman has a much harder edge in this new era, which makes sense for the character. Though if you think that means that he's not the man he was, you're sorely mistaken. At his core, this is still Clark Kent and that shines through in all the exactly right places in the book.
Also shining is Kuder's art, which is just terrific. Realistic, but with a cartoony bent (without going overboard), the illustration fits the tone and characters perfectly. And while I might not be a big fan of the new look for Superman all around (I would still prefer to see him in costume and with the longer hair) I can't deny that this new image is something different that shakes up the quo. And for a while anyway, that's a great thing.
Final Thoughts
I was kind of floored by the quality of the opening shots in Truth. Not only is this new version of the Man of Steel compelling, but he's downright cool and fun to read. As I said too, there's so much happing in the background, setting things up for the rest of the arc, that the issue is just loaded.
With a terrific script and some excellent artwork, Action Comics #41 is a Superman book that no fan should miss out on. Even if you're not traditionally a Superman follower, you should consider picking this one up as it's very, very different than anything you've seen prior from the character.
As with Batman right now, I'll be happy when everything is back to 'normal' for this tremendously iconic character, but I'll sure enjoy the shiny new ride in the meantime.
Continue Reading >>> Source link