Thor and Loki tie into Original Sin with the revelation that Odin had a daughter, banished along with something called the Tenth Realm.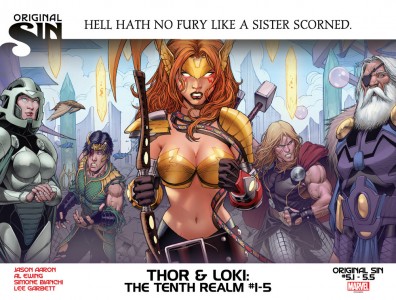 Though not of his blood, Odin raised Loki as if he were his own. Alongside his biological son Thor, the two would grow into gods that would shape the very fabric of the universe for generations to come. But Odin had a secret. A daughter unknown until now, and the mystery of her arrival will unlock the secret behind the banishment of an entire realm!

Now, the long forgotten Tenth Realm has returned, and with it comes Angela – the lost daughter of Asgard! And her quest for revenge will cut a bloody swath through Asgard like no other!

"Al Ewing and Jason Aaron have crafted a truly epic story here, brilliantly brought to life by Simone Bianchi and Lee Garbett," says Marvel Editor Wil Moss. "It's got everything: Thor and Loki fighting side-by-side! The return of Odin! An ethical quandary that stumps even Loki! An insanely awesome fight between Thor and Angela! And so, so much more. The creative team is really giving this story their all, leading to huge ramifications in the THOR: GOD OF THUNDER and LOKI: AGENT OF ASGARD series when all is said and done. And just wait till you see where Angela goes from here…"

Jason Aaron, Al Ewing, Simone Bianchi, and Lee Garbet are set to take Thor and Loki on an emotional roller coaster, as the sins of their father will be visited upon his children. And the coming of Angela and her kingdom could spell the end for all of Asgard!

What is the secret of the Tenth Realm's banishment? As Thor & Loki uncover the mystery, they'll find themselves on a deadly collision course with an even deadlier sister! The sins of Asgard stand revealed and the stage is set for a climactic clash of gods and angels this July in THOR & LOKI: THE TENTH REALM #1!
Original Sin is a big crossover event. Big. Even so though, I didi't realize just how massive and far reaching the crossover would be. I mean, we're not just talking about a one-off issue tie-in here, this is a whole different mini-series all its own that'll be running concurrently with Original Sin itself. That's big.
Although Original Sin is shaping up to be pretty much all about going back into the history of Marvel and rearranging things to make some new plot lines and relationships, this one might take the cake. We're looking at not just an explanation for the character of Angela, and insanely powerful 'angel' who suddenly showed up out of nowhere, but also of an entire plane of existence with the Tenth Realm. Quite the checkered past you've got there Odin.
Thor & Loki: The Tenth Realm, by Jason Aaron, Al Ewing, Simone Bianchi, Lee Garbett, kicks off with the first of five issues this coming July. It's going to be a very expensive Summer keeping up with Original Sin.
Continue Reading >>> Source link