Remember that Anomaly 2 benchmarking app that developer 11 bit studios released last week? Well, the results are in and they're a little surprising. But just a little.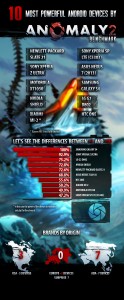 Click on the infographic to the right for the whole story, but here's your top ten in a nutshell:
Samsung Galaxy S4
Sony Xperia Z Ultra
LG G2 D802
NVIDIA Shield
Hewlett-Packard Slate 21
ASUS Nexus 7(2013)
HTC One
Xiaomi MI-2
Motorola XT1030
NVIDIA Tegra Note Premium
11 bit makes a point (and rightly so) to tell the tale of the European hardware makers with this test. Apparently they've completely fallen off the table where it comes to power with the Android platform. With a grand total of '0' representatives on the top ten list, European companies are right on the bottom, followed by the US with three placings.
And the States might have more than the Euro-zone here, but they still lag far behind the Japanese who've got 7 mobile devices on the list. Polish developer 11 bit is shooting for Anomaly 2 to be as close to the PC version of the game as possible, which means it's gotta have some power behind it. For that it needs a beast of a handset, which was the whole point of having this benchmark test t begin with.
But even if you're not intending on getting the tower-defense sequel (which has no release date as of yet), this listing is kind of like a who's who of Android. Definitely worth a look.
Continue Reading >>> Source link