Archie vs Predator starts off with a bang… and maybe a few decapitations, in the first issue of the miniseries from Dark Horse and Archie Comics.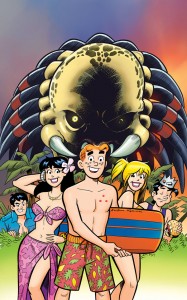 This is weird. There's just no way around it, Archie vs Predator is weird. Here's the thing though, it's a really fun kind of weird and it works as a story. I don't really know how, maybe it's that Alex DeCampi magic at play, but it does. That in and of itself is nothing short of a miracle when you're talking about two characters (and fictional universes) as different as Predator and Archie.
Things start out here in the first issue innocently enough. Archie and the gang are headed to a South American vacation spot after Arch's pal Jughead wins a contest in a bag of chips. Once the group lands in 'paradise' they find beaches, bungalows, and some of the most oppressive heat they've ever felt (see where this is heading Predator fans?). Beyond that though, this is an 'Archie' comic all the way through.
The teens banter, eat and drink, and even hold a beauty pageant on the sand to pick the most popular girl in school. All this sounds perfectly typical for a Archie comic, doesn't it? There's more though, and I don't want to spoil anything here, but someone else shows up to the party as well. And this someone isn't too interested in dresses. Actually, he's more into hides…
While I don't want to ruin the narrative for you, I don't think it's spoiling anything to rave about the aforementioned writing by Alex DeCampi. You might be familiar with DeCampi from her various horror series' like Dark Horse's Grindhouse, or the My Little Pony book from IDW. Yeah, now that's what I call range, and the author displays plenty of everything she can do here in Archie vs Predator #1. The Archie bits feel like an Archie comic, and the Predator bits feel like a Predator book. It's almost like the two are separate stories that have been somehow grafted onto one another.
Making that work visually is no small feat either, and that's where artist Fernando Ruiz comes in. Ruiz has been the artist on Archie for years, and shines here with his innocent, cartoony characters caught side-by-side with one of the most menacing beings in sci-fi/horror to ever grace the silver screen and the printed page. To put it simply, you will be surprised by his work on one of the more… interesting happenings in the comic, and I can only think that there's a lot more of that to come.
Final Thoughts
Much like Afterlife with Archie introduced the characters in the long running comic to the horrors of the undead with a zombie plague, Archie vs Predator hits the mark with all the right tones for the titular monster. The biggest difference between the two stories, other than the villain, is the fact that Afterlife starred a vastly different Archie and friends.
That group was more adult, and more mature in tone, so they fit the story easily. That's not the case here as the gang cast in Archie vs Predator is the group that you remember growing up with. And honestly, it makes a huge difference. While I enjoyed Afterlife as well, and that book really was tons of fun, Archie vs Predator is just so much more interesting for the fact that it's got such a cartoon-like setting and the character are so much more familiar. I'm not even a fan of Archie and have never really read the comics that he stars in, and it definitely made a difference even for me.
The artwork is terrific here and the story is, so far, top notch. I have no trouble recommending this one to pretty much any mature comics fan, and I doubt that, if you're a fan of Archie and/or Predator, you won't find something to like in it. Well, as long as you're not too squeamish that is.
Continue Reading >>> Source link