The classic sci-fi/action comic returns in a massive collected volume from Dark Horse Comics.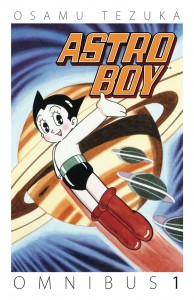 It's not really a stretch to say that Osamu Tezuka's Astro Boy is one of the best-loved properties of all time. The comic/cartoon has been around for ages now, and was one of the original Japanese properties to find a large audience in the western world. How long has the little robot ben around? The original run was from 1952 to 1968. Yeah, if something is still being talked about and read this long after it's origin, then you know there's a rabid fanbase.
And now Dark Horse is ready to deliver to them with a monster of an edition, loaded up with almost 700 pages of content. This isn't just the usual either, with books that every fan of the Astro knows, as a good chunk of what's in here is "rare and out-of-print material" that you won't find anywhere else. The publisher also promises that the book will be filled with "jet-powered, superstrong, evil-bashing adventures", so fans will want to make sure to check it one out.
As to when you'll be able to do that, Astro Boy Omnibus will be on the shelves this coming September, and can be pre-ordered right this very minute via Amazon.com, Barnes & Noble, and IndieBound.  You can also grab a copy through your local comic book store, which you can find with Comic Shop Locator.
Continue Reading >>> Source link