Now this is cool; Atari and Dynamite are poised to launch into a new agreement that will result in a series of retrospective hardcover books, comics and more.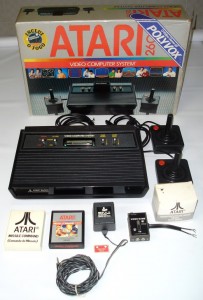 I love classic Atari stuff, art books, and retrospective 'vault' books in pretty equal measure, so this stuff is right in my wheelhouse. I think it might be a first for the gaming industry too. Don't forget that, while art books are nothing new really, a series of tomes that look back at one particular company definitely hasn't been brought to market before. At least, I don't think it has…
And this deal that was just inked between the two companies should be pretty darn inclusive too. Dynamite is promising that fans'll see "a comprehensive retrospective hardcover book, collecting game production and concept artwork, photos, behind-the-scenes info, marketing art, other details on the company and its games, and interviews with key people involved in Atari's rich history. The deal also includes the right to create original comics and graphic novels in all sizes, as well as reprint existing comic material."
Mark me down for that. …all of it.
"We are excited to be teaming up with Dynamite Entertainment to bring a modern twist to a classic series of comics and table top books that are rich with historic art," said Fred Chesnais, Chief Executive Officer, Atari, Inc. "Atari's roots in the comic book world and iconic art is a collector and video game enthusiast's dream. Our partnership is a fun way to expose our brand to a new generation and resonate with our long-time fans."

"Atari is a touchstone for so many people," says Dynamite Director of Business Development Rich Young. "Their games and game system exposed a lot of folks to video games for the first time…and frankly, got them hooked! I have fond memories of playing games on the 2600 with friends growing up, and am quite happy that we have a chance to work with Atari on this publishing program."
Since the first game I ever played (Moon Patrol) was on one of Atari's consoles, you can mark me in as one of those people for whom the company is a "touchstone". I will add though, that I had no idea that Atari had roots in comics. And yet there's Atari Force from DC Comics, which ran from 1982-86, and played host to a very impressive list of talent like "Gerry Conway, Roy Thomas, Ross Andru, Gil Kane, Dick Giordano, Mike DeCarlo, Jose Luis Garcia-Lopez, Eduardo Barreto, and Mike Baron." But while those classic comics will be getting a re-publication under this agreement, new books are being worked up as well.
Dynamite has announced that "the hardcover retrospective art book" will be joined by new comics based on "Asteroids®, Centipede®, Crystal Castles®, Missile Command®, Tempest®, Yar's Revenge®, and more". Yep, those are some classics right there, and while you might also say that all of those games had little to no storyline originally, I'd say that a writer could seriously dig in and exploit the themes of all of the above to craft something that's almost totally original. So there could be some gold in those Atari hills.
Continue Reading >>> Source link