It's not easy being a gumshoe in post-apocalyptic California, but old Tex has been at it for a long, long time.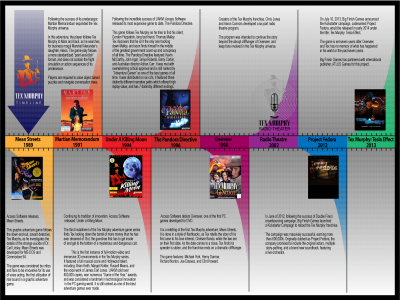 It's kind of neat to look back on this series, one of the longest running in adventure game history. Tex first donned his fedora way back in 1989, which is way before I think most gamers remember 'meeting' him. That particular game, the one that players probably remember the best, was Under a Killing Moon in 1994.
UaKM introduced the full-motion video format that Tex Murphy adventures became famous for in the game world- good FMV too, not the lousy quality video that pervaded most games that tried to take advantage of an innovation that was just starting to make some hay in the adventure game scene. No, Under a Killing Moon and the sequels that followed up till Overseer in 1998, weren't really motion picture quality, but they did have actual fun with recorded video, never took themselves too seriously, and were just plain enjoyable.
Tex is a real honest to goodness classic of a a series, and Tesla Effect, picking up where Overseer left off, is looking like it might just continue that grand tradition and do the detective right. We'll find out when Tesla Effect : A Tex Murphy Adventure hits the PC on July 10th from Atlus and developer Big Finish Games.
Continue Reading >>> Source link