August 7, 2013
Collectables, News, PS3, Xbox 360
1,973 Views
The Collector's Edition for Warner Brothers' upcoming Batman: Arkham prequel is official.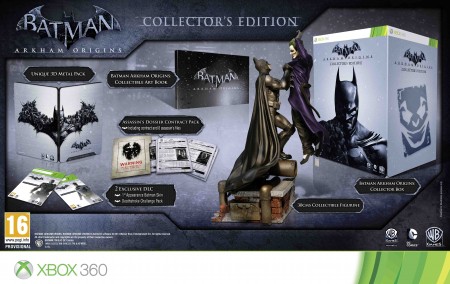 Announced today for the UK (though a US announcement should be along soon too) is an Amazon exclusive special edition for Batman: Arkham Origins that fans of the legendary comic book character are probably going to want to snag with a grapple line. Not only does the Batman: Arkham Origins Collector's Edition include a pretty awesome looking statue of The Dark Knight and Joker, but you also get an 80 page art book and a ton more:
Exclusive Arkham Origins highly detailed premium statue featuring Batman & The Joker, measuring approximately – Height: 30cm – Depth: 13.5cm – Width: 13cm
80-page, full-color hardcover artbook
Assassin's Intel Dossier, including files on the eight assassins, as well as Black Mask's contract
1st Appearance Batman Skin DLC
Deathstroke Challenge Pack DLC – Usable throughout all the Arkham Origins Challenge maps and also includes two bonus challenge maps and two bonus Deathstroke Skins
Exclusive 3D Metal Pack
The PS3 edition will also include the Knightfall pack as an exclusive piece of content
The Batman: Arkham Origins Collector's Edition is available for preorder on both the Xbox 360 and the PS3, so far it's only been announced for the UK and is available through Amazon.com only.
Continue Reading >>> Source link