We'll have to put this one in the "weird but true" file. Retailer Entertainment Earth is actually taking pre-orders for a vintage Star Wars figure. It's Jabba's little pet/pal Salacious Crumb. Yes, that's a little odd, but it's plenty cool too.
Watch your eyes!
One of the smallest of Star Wars' creatures, Salacious Crumb had few impactful moments in Return of the Jedi. Basically, he played with Jabba the Hutt's tail, and pulled out one of 3PO's optics, and that was about it. He laughed a lot too, can't forget that.
There was something else though, in that Crumb was included in the Jabba the Hutt playset that saw release with all the other RotJ stuff, back in 1983. I remember it well, since it was one of the coolest toys to spin out of that final (at the time) Star Wars flick. The set included Jabba himself, who's figure was freaking awesome. He actually had lenticular eyes that "followed" you! How cool is that?!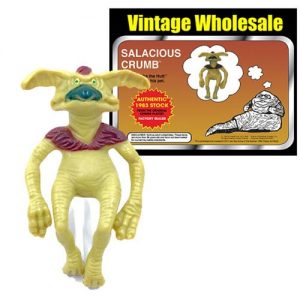 An awesome throne was included too, with a passable simulation of the Rancor pit trap door built in. The set was amazing all around, right down to its accessories. One of those, was this figure right here – Salacious Crumb himself.
Return of the Crumb
Non-poseable, but with a nice amount of detailing, Crumb is designed to be in the seated position. So you could sit him on the edge of Jabba's throne, where he could mockingly laugh at your Jedi Luke.
This offering from Entertainment Earth is that figure. No, not a re-release or recreation, it is that figure. Somehow EE has gotten ahold of a bunch of the little guys, sans the rest of the playset. Each one is poly-bagged and does come from that original run of the toy though, so they're a definite piece of Star Wars toy history.
The figures are set to ship out in May (so, next month), and will run you $3.99 USD a piece. Yep, that's the price. I though they'd be more honestly. It should go without saying too, that these are probably pretty limited. So, if you do want one, then you might want to order sooner than later.
Pre-order yours here.
Continue Reading >>> Source link