If you've been watching Twitter for the last day or so, then you've probably seen a whole mess of people talking about an X-Force movie. And if that's the case, then you've also seen a certain piece of artwork by Gregory Semkow, a piece of art that shows a 'movie' X-Force team in all its glory.
Semkow is a concept artist for both film and video games, and if you're a fan of one of the biggest properties of the 1980's, then you already know his work well. His is the hand behind one of the most talked about images that hit social media this calendar year, with Masters of the Universe's Battle Cat (above). An associate of screenwriter/director Jeff Wadlow, Semkow worked with him on several occasions and was directly linked to the Masters of the Universe feature film that's still in limbo for some unfathomable reason. Simply put, his depiction of a dark, gritty-looking Battle Cat is seriously awesome and was applauded by fans.
As for X-Force, that's a different matter entirely. X-Force is an X-Men spinoff that emerged back in the 90's from Marvel Comics. If you're not familiar, then really all you have to know is that X-Force is a more militaristic and hardcore 'strike team' version of Professor Xavier's mutant superhero group.  It's also a team of characters that was born from the mind of artist Rob Liefeld.
Deadpool is Liefeld's other monster creation by the way, and was in 'development hell' as a film till the leak of some test footage online. It turned out to be a boon for the flick, as the Ryan Reynolds-voiced footage enraptured fans with it's incredible level of detail and adherence to the comics where the 'Merc with a Mouth' first appeared. Long story short, that film was fast-tracked, is now on the books for a February 12th, 2016 launch.
So where does the aforementioned X-Force fit into all this then? Well, before the Deadpool footage leaked out, it was X-Force that was the IP that was rumored to be on track to join X-Men in Fox' version of a shared movie universe. As of now, it may or may not be the case that X-Force will ever actually make it to the big screen in a standalone film, despite what some outlets are reporting right now. But what we do know is that Greg Semkow's vision for the team that would have appeared is pretty freaking awesome, not to mention just as comic-accurate as Deadpool looks to be.
I had the chance to chat with Semkow earlier today and he elaborated a bit on what the image actually is that's been making the rounds (which you can see below).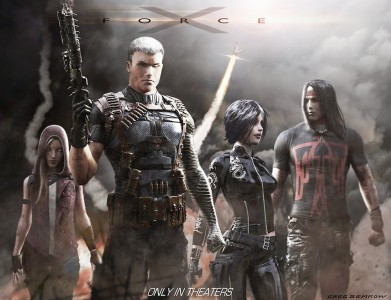 Having read the original script for X-Force in 2013 and also having collaborated with Wadlow on the look and feel for the proposed film, Semkow says that he was enthusiastic about the potential it had. As a fan of X-Force himself, he thought the script was "badass". It's a script too, that his illustration was directly based upon, with the full team that would have made the leap to the silver screen depicted.
There are more than a few easy characters to spot here of course, with Cable (team leader) in the center, flanked by Domino, Warpath, and Feral (yep, that's her in the sleeveless hoodie- confirmed). And, of course, that's Cannonball blasting into the stratosphere in the background. It's a great lineup all things considered, and has the classic core of the group accounted for, with plenty of room to grow in subsequent sequels.
So what's happening with this now? Well, Semkow has told me that he's not sure of the status of the project at present. The above image is readily viewable on his own site here (along with a bunch of other awesome stuff), but the whole X-Force film saga kind begins and ends there as far as he knows. Of course, it could be that there's some behind-the-scenes movement on the film, but that's something that Fox hasn't so far commented on, and that (according to a recent Tweet) creator Rob Liefeld says that he doesn't know the status of either.
If it is moving forward though, it seems like Wadlow and Semkow would be the obvious choices to make it a reality. What we've seen and heard about the script (while not all that detailed) seems to point to it being something that the fanbase could definitely get behind, and Semkow's concept art of a live-action X-Force team looks spot on. As a fan myself, I'd go see it.
Also, make sure you click over to Semkow's site and check out what else he's got posted, it's worth your time. His work's been garnering a ton and half of attention and there's plenty more to come. He's got some awesome Masters of the Universe stuff up there, as well as a Mad Max-inspired piece and a freaking Cadillacs and Dinosaurs pic too.
Currently, Semkow is hard at work on the first big feature from Jeff Robinov's Studio 8 company and director Albert Hughes.
Continue Reading >>> Source link