Your favorite (?) crew of writers and editors shot the breeze this past Mortal Kombat release week, remembering back to earlier, simpler, yet still plenty bloody times. Back when Mortal Kombat was new.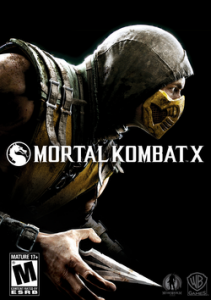 I went ahead and wrote a pretty lengthy ode to the original MK in retro review format earlier today, so I'll spare you from reading through my thoughts on the subject twice. Needless to say though, I'm a longterm fan of the series.
Originally from Midway, and now hailing from the minds at NetherRealm (same Ed Boon though), Mortal Kombat has really set the bar for violence and over-the-top blood and guts action in the genre. It's not all gore though, because the franchise has captured the attention of serious fight-fans, not just passing admirers, who await each new release as one of the primo fighting games on the market.
I've been a fan since the original, but MKII is my favorite of all of them. There was just something about the mix of higher production values (I'm guessing at that) and the same level of brutality that the original had that just won me over. Plus I could actually pull off the stage-Fatalities, so there's that too.
But once again, I've gone on too long, so here's the staff's thoughts on the one and only, Mortal Kombat.
Nadia – Canadian Staff Writer
I played mortal Kombat when I was 8 years old. My mom was really against fighting games, and even the gore that Mortal Kombat contains due to the fatalities especially. While I don't play the game much I did enjoy the movies as well!
Jake C – US Staff Writer
The first time I ever saw a fatality on MK Armageddon on the original Xbox. Such beauty. Such majesty.
Hanna – Community Manager
It's our family Thanksgiving tradition. My oldest brother would come home with his system & all the kids would crowd around, playing each other & begging him to fatality us. It was the only time we were ok with losing to him. My mother was appalled! We would cheer so loud family kept coming in to see what the fun was, only to walk away shaking their heads & mumbling about the youth of the day & society's failures.
 Lisa – US PlayStation Editor
Mortal Kombat is pinnacle to my childhood memories. It was the first video game that my parents wouldn't buy me; they couldn't even know I played it! It also started my love of fighting games. My neighbor had a copy and I would play it over there, praying his mom wouldn't tell my mom what was going on. My skills were limited to button mashes and I never did get the sweet experience of using a true gamepad to play it; however, escaping the idyllic stories of Mario was refreshing. The violence my mom was so afraid of pales in comparison to today's video games, but it will always be one of my edgiest gaming memories.
Those are our thoughts, if you missed it though, there's a whole bunch more MK content from this past week that you might find interesting. So make sure you check that out! Now if you'll excuse us, it's time for some disemboweling and head-snapping.
Anybody else miss 'Toasty' by the way?
Continue Reading >>> Source link