Stompy Bot Productions' customization-happy mech-battler is now available on Steam's Early Access for the PC.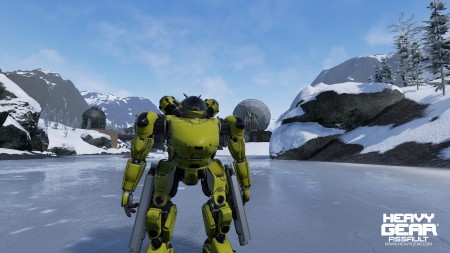 "This new phase of development has really energized our team, and we're eager to keep the momentum going full speed. Our early supporters have been dying to share their excitement with the world since it's been underwraps, and we're thrilled to see more players join in and provide vital feedback as we gear up for our full launch next year," said John Nguyen, Marketing Director of Stompy Bot Productions.
Traveling to strange new worlds and pilot giant robots sounds like a pretty good time to me, and that tried and true video game forums seems like something that developer Stompy Bot has working to a pretty solid degree here in Heavy Gear Assault.
In the game. you'll head to the planet of Terra Nova to command your mech, a bot that's loaded with customization opportunities. But building your mech up to suit your specific combat needs isn't the only thing that Heavy Gear Assault offers gamers. You'll also find gameplay modes like straight-on deathmatching and the more "strategic" Brunes Ball mode available for play at your discretion.
As is the norm with Early Access games, you'll find a modular release with this one. The game is available now in an non-finalized state, with additions being tacked on as we get ever closer to the actual, retail release. And that, by the way, is something that you can expect to see in 2016 for both Windows PCs and Linux systems (with cross-play too).
Continue Reading >>> Source link