Sorry Bioshock fans, the second game was mysteriously taken down from digital stores the other day. News broke out on Reddit about the sudden
disappearance, leading to questions about licensing. 2K finally released a statement to Polygon stating,
"BioShock 2 has been temporarily removed from the Steam, Xbox Live, and PlayStation Network marketplaces and will return to these digital stores soon. We'll let you know when that happens. In the meantime, this in no way affects the single-player or multiplayer experience for those who currently own BioShock 2."
While this is certainly a relief for players and future buyers, it is curious. Especially when considering that the five year anniversary of the game's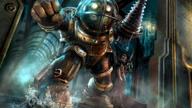 release was just a day ago. The timing is off and the lack of announcement is startling. 2K has yet to address why they took the game down, but maybe when it comes back there will be more information released. Until then players without the game will just have to satiate their Rapture cravings with the original Bioshock.
Please follow me on Twitter for more gaming news and insights: @lmrome3

Continue Reading >>> Source link