While old Bishop might be falling to pieces (don't worry, he's fine), the series looks awesome with the Queen Attack version of him, and the addition of Ripley as she appeared in Aliens.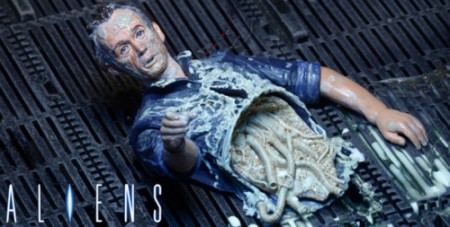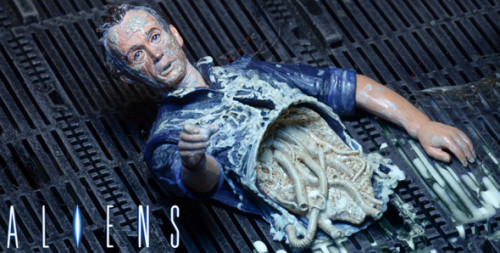 This is actually the second figure for Bishop, as tattered as the synthetic human might be in this wave, and the third figure for Ripley. Though it's her first from the sequel Aliens, which is really where she was at her most iconic.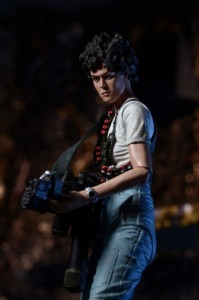 Bishop might be half a 'man' in this set, but the pack that he ships in actually includes an Alien egg and a facehugger, so you'll still get plenty of bang for your buck. I have to add here that I love how NECA has found a way to get this figure out there in a standard retail pack, and still give fans plenty of toy for their money. The addition of that egg/facehugger combo was a brilliant move!
As for Ripley, NECA's work on the Sigourney Weaver figures has been nothing short of stellar so far and this one's no different. The pics actually look more like a shot of the actual actress instead of a plastic replica, and show off her staple character of Lt. Ellen Ripley as she appeared at the end of Aliens, pulse rifle/flamethrower hybrid in hand.
Rounding out the wave are a pair that you've seen before, but ones that are nonetheless welcome re-additions. The black and red xenomorphs first appeared in the Aliens: Genocide series of comics from Dark Horse and battled each other in a brutal civil war. In figure form, they were released as a special two-pack that's no longer all that easy to find at stores or online. With the entry of these two single-carded figures though, you can army-build to your heart's content and make that all red or black hive that you've always  dreamed of.
The full wave (which is the 5th for Aliens) should be out some time soon, and all of the above are sized to the 7″ scale. You can hit this link right here to head on over to the official page on NECA's website for more awesome shots of them all in action while you wait.
Continue Reading >>> Source link