Although it's pretty public knowledge that actor Wesley Snipes has been talking to Marvel about a new 'MCU' Blade film, we're talking comics here as the vampire killing hero is on the way back to his own monthly book… with  twist.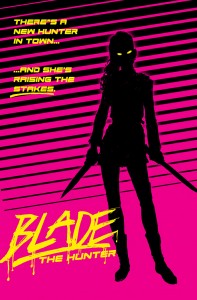 While I'm sure a potential film would focus on Snipes' character, this new book doesn't. Starring Blade's daughter, the vampire-hunting family will face a brand new evil this Fall.
She's lean, she's mean and she has no idea she's the daughter of a monster killing machine! This October, it's the Marvel Universe's resident vampire hunter like you've never seen before in BLADE #1 – a brand new ongoing series from writer Tim Seeley (Death of Wolverine: The Logan Legacy) and artist Logan Faerber (Secret Wars: Battleworld)!

Meet Fallon Grey. A normal sixteen year old girl from rural Oregon. Nominated for Prom Queen, Captain of the Debate Team, most popular girl in her class. But there is another side to Fallon. A feeling like there's something else going on inside. When terror strikes her small town, she'll find out just how right she was. As fearsome supernatural forces invade her town, hunting her down – she'll come face to face with something even more shocking than the monsters on her tail.

Eric Brooks…Blade…her father?!

"[Fallon's] sort of 'anti-Peter Parker'," says Tim Seeley in an interview with Marvel.com. "She's popular, she's well-liked, and it seems like the world is her oyster. But, the expectations that come with being so damn perfect are starting to break her down, and that's before she learns she's the heir to a Daywalking-Monster-Stabbing-Empire."

But there is a new evil brewing deep in the forests of Oregon. A new cult of monster scientists, twisting and mutating demons, vampires, werewolves and more into even powerful new creatures. To stop them it will take more than one Daywalker. And in each other, Eric and Fallon may just discover the purpose they've each been struggling to find. Don't miss the highly anticipated new series when it debuts this October in BLADE #1!
I have to say I am a bit disappointed that the comic won't be focused on Blade himself. One of my favorite of Marvel's supernatural stars, Blade hasn't had a comic in years and years and hasn't starred in a book at all since his run as Ronin in the Avengers books. It does sound like he'll figure into this new comic pretty prominently, but won't be the focus as that'll be Fallon.
She does sound kind of cool though, as her story is almost a Buffy the Vampire Slayer-esque one. Could be a fun time, and there's sure to be plenty of staking going on with two Brooks' running around. Stay tuned for more on this one, and grab a copy of the first issue when Blade #1 launches as a part of the all-new, all-different Marvel Universe this Fall.
Continue Reading >>> Source link