Writer Dan Jolley and artist Leonard Kirk's superhuman hunter is back with a vengeance.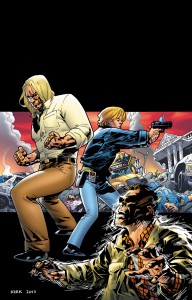 Formerly a member of the DC Universe, Bloodhound is a detective named Travis Clevenger. Called Clev for short, Travis has made a living out of tracking down superpowered killers and taking them in. His latest case though, is set to be his most brutal ever. Something that fans can thank new publisher Dark Horse for.
Travis Clevenger may not have superpowers, but he can put a beatdown on anyone who does! Consulting with the FBI in exchange for release from prison, Clev is getting his life together when an out-of-control superhuman's destructive rampage and a rogue scientist's response—offering designer superpowers to anyone who can afford them—shock the nation, leading to Clev's biggest case yet!
If you need to catch up on your Bloodhound before the new book hits, the first three part tale featuring the hero just concluded in Dark Horse Presents today (with DHP #25) and there's a great collected edition of the original miniseries from DC Comics out as well that features the work of Jolley, Leonard Kirk, and Robin Riggs that's definitely worth reading.
Bloodhound: Crowbar Medicine will be on shelves this October the 16th from Dark Horse Comics..
Continue Reading >>> Source link