No, it's not 'Jason', but the monster that Valiant's Bloodshot is taking on this Summer should be very familiar for horror-fans.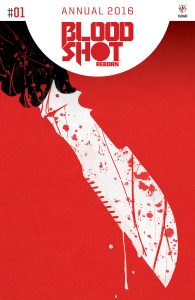 The setting? Camp Silver Lake. The problem? A masked nightmare of a man that's been stalking the camp-goers for years. The solution? Bloodshot. The first annual for Bloodshot Reborn, Valiant's current Bloodshot ongoing series, sees a clash of genres.
Penned by Jeff Lemire and with some awesome-looking art by Kano, Bloodshot Reborn Annual 2016 #1 is sounding pretty awesome with its headlining tale, and a backup story with none other than Bloodsquirt.
First: terror doesn't wait for Friday at Camp Silver Lake! A masked menace has stalked this camp for years, but what happens when one unstoppable killing machine comes up against another? Bloodshot is about to bring his bloody brand of justice to the quiet shores of Silver Lake to take on America's most notorious slasher!

Then: Jeff Lemire presents a very special Bloodsquirt solo adventure, alongside all-new stories and standalone tales from a colossal cast of talents, including Ray Fawkes (Batman Eternal), Michel Fiffe(Copra) & Benjamin Marra (Terror Assaulter), Paul Maybury (Sovereign), and more!

Featuring covers by Kano, Ryan Bodenheim (The Dying & The Dead), Robert Charles Wilson IV (Bitch Planet), and Keron Grant (Fantastic Four), get all this, plus your first look at the next major Bloodshot milestones coming to the Valiant Universe in 2016 and beyond, when the BLOODSHOT REBORN ANNUAL 2016 #1 unloads a 64-page clip of action in stores everywhere on March 23rd!
Continue Reading >>> Source link