If you're going to be in Boston this August, then you're in for a treat as the Boston Comic Con is coming to town.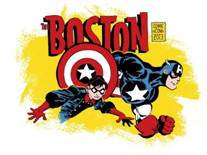 The Con was originally scheduled to be held in April but was postponed after the horrific bombings at the Boston Marathon. The show's back on now though and sure, it's a little bit shorter than usual, but that just means the two days of the event will be all that more packed with awesome.
A number of stars are set to appear including Kristen Bauer (True Blood), Joe Hill (Bestselling Author), Laurie Holden (The Walking Dead), Mike Mignola (Hellboy), Eve Myles (Torchwood) and Steve Niles (30 Days of Night). You'll also be able to check out the BCC's annual film festival (featuring local, feature and short films) and a comic art auction which will see some of the proceeds go to The Boston One Fund and The Mike Wieringo Scholarship for aspiring comic book artists studying at the Savannah College of Art and Design.
Some good causes and a lot of good fun; not much better of a way to spend a couple of Summer nights.
Check out the Boston Comic Con this August the 3rd (10am – 7pm) and 4th (10am – 5pm) at the Seaport World Trade Center,  200 Seaport Boulevard in Boston Mass. For more info or to pick up some tickets for the event, click here.
Continue Reading >>> Source link