Some of the biggest names in classic comics are headed back to the printed page thanks to IDW.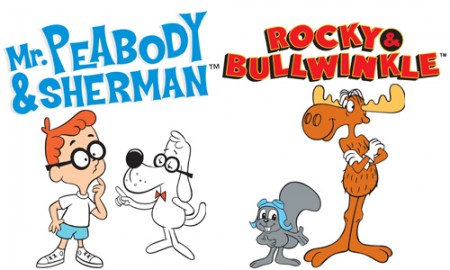 Rocky & Bullwinkle, Boris & Natasha, Snidely Whiplash, Mr. Peabody & Sherman, and Dudley Do-Right – those names ring a bell?
IDW announced today at the C2E2 comic con in Chicago that some of the most beloved characters in comics and cartoon history now have a brand new home with them some 50+ years after their debut.
"Jay Ward's characters and concepts are landmarks in animation storytelling, and they remain as funny and relevant as ever," said IDW President Greg Goldstein. "The phrase 'fan-favorite' is often overused, but in this case, it's well earned and justified. We're thrilled to add these brands to our ever growing list of all-ages titles."
The publisher is currently planning a series based on Mr. Peabody & Sherman (which I remember well from when I was a kid) and Rocky & Bullwinkle for debut in 2014. That's some very good timing indeed as a full length, 3D ('natch) feature film version of Mr. Peabody & Sherman will be headed to theaters courtesy of Dreamworks Animation next year as well.
It's a good time to be a Jay Ward fan.
Continue Reading >>> Source link