Infinity Blade fans are going to have some new decor for their desks thanks to an agreement that's set to bring 'custom collectibles' featuring characters from the game to fans.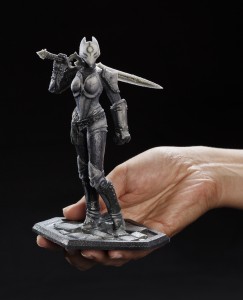 Pretty easily one of the most popular game series' on iOS, ChAir's Infinity Blade is also one of the most visually interesting titles out there. Taking full advantage of those great character designs will be 3D print and software development company Sandboxr. The company will be forging completely custom Infinity Blade character statues, made to order- by you. While custom figures are starting to gain a foothold online, this is more than a bit revolutionary since the way you'll order your custom figurine will be from within Infinity Blade III. And that's something that's never been done before.
"The ability to take something from the virtual world, customize it, and push a button to transform it into the physical world is magic," said Donald Mustard, Co-Founder/Creative Director for ChAIR. "We're excited to introduce collectibles that allow fans to create what they decide is the ultimate expression of their character. We can't wait to see all of their amazing Infinity Blade creations."

"With its focus on customization and strong characters, Infinity Blade is the perfect fit for our platform and is the ideal partner to launch the first in-game 3D printing experience," said TJ Young, Co-Founder/President of Sandboxr.  "With our proprietary software, state-of-the-art 3D printing facility and Infinity Blade's customizable interface, there's no limit to what fans can create."
In addition to the custom stuff, ChAir is also offering a limited edition series of Hero statues that've been designed by the Infinity Blade dev team themselves. Either way you grab one of these is pretty awesome, but as a figure junkie myself, I can't resist building my own. Infinity Blade III is available right now on the Apple App Store, and you can get a more in-depth look at the process of making your 3D digital design come to life, by clicking here.
Continue Reading >>> Source link