There have been a few Ken Masters figures floating around the last couple of years, but this might be the best one yet. SH Figuarts' latest is pure classic Street Fighter II, and is up for pre-order right now.
Shoryuken!
I didn't even know this one was on the way, but it's a knockout of a figure. Not that that's anything new for the SH Figuarts, which has a habit of making some great looking stuff.
I'm a pretty big Street Fighter fan in general, and I had been buying Storm Collectibles' line, which is also pretty great. Those are purely styled to look like the SFV designs though. And, not that I dislike it, but I'm not the biggest fan of that game. Street Fighter II though, that's another story.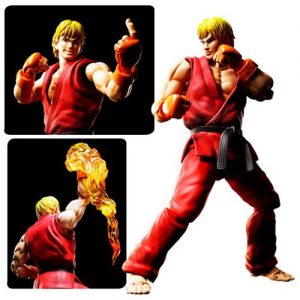 There are some incredible Figuarts versions of series' mainstays like Ryu, Cammy, Chun-Li, Akuma, and now Ken. Either way you go, you're going to get a quality figure, but for fans of the classic, man nothing quite beats this.
Ken is available for pre-order right now over at our friends Entertainment Earth. You can expect to see him hit retail this July for $59.99 USD, and you can get one here.
Continue Reading >>> Source link