The creators of You Don't Know Jack have launched a new app that allows the creation of such wonders as a "homely baby or even a half-human dog".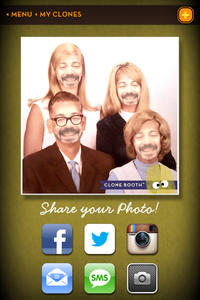 A part of the Another Weird Thing line from Jackbox Games, Clone Booth includes a full photo editor that allows users to play around with you images in a bunch of ever so slightly disturbing ways. Built into the app is a collection of portraits from the '1800s to the 1980s', all of which can be customized with whoever's face you like. You can also change many of the aspects of the photos you use like the angle, size, brightness and more. Then when you're all done you can share your oddball pics to Twitter, Facebook, Instagram and even text and email.
Although the company is usually all about their famous line of trivia games, Clone Booth is more about just having fun and comedy, something that Jackbox knows plenty about.
"Many of our writers, designers and engineers are part of Chicago's improv comedy scene," said Mike Bilder, GM, Jackbox Games. "So we're always coming up with bizarre app ideas that crack us up and, in the case of Clone Booth, aren't even a game. The Another Weird Thing brand gives us a place to bring these small, fun diversions to market."

"For longtime fans of YOU DON'T KNOW JACK, Clone Booth gives you a glimpse of what it's like to work here at Jackbox Games," said Allard Laban, Creative Director. "Doctoring up funny images of each other and sending them around the office is exactly the way we amuse ourselves and we hope everyone has as much fun with it as we do."
There's more on the way from Another Weird Thing including Word Putz, which is next on the calendar. For now though, you can pick up a copy of Clone Booth right now on either iOS or Android.
Continue Reading >>> Source link