Well I'm not sure where we were on this, but apparently Coleco has announced a new console heading for retail. And the Coleco Chameleon is sounding like a very interesting little retro-inspired machine.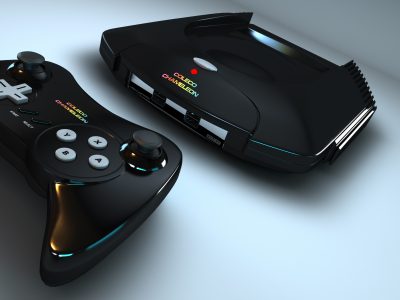 One of the only consoles that I was left without as I progressed through my 'career' in gaming, I was always infatuated with the manufacturer and its ColecoVision console that launched in 1982. At present I'm still sans ColecoVision, though it looks like I might get a shot at adding a Coleco-made console to my stable thanks to the Chameleon.
The Coleco Chameleon is made with retro-gaming in mind. It can play "compilations" of classic games, as well as new titles fashioned in the "8-, 16- and 32-bit styles" that will be hitting the machine. Oh, and it's cartridge-based. What, you expected something else?
Speaking of, those carts will be presented in a pretty incredible (and kind of irresistible) way that I have a feeling longtime gamers will be pretty happy with. Coleco says that the cartridges will be nice and sturdy (meant to be "played, traded, and collected for a lifetime") and include not only a plastic clamshell package (to store them in), but also illustrated freaking instruction manuals (and game developer notes). Yes, that's almost unheard of in 2016, and yes I'm very happy about it.
As to what kind of titles we can expect to see on the Chameleon, we're not quite sure as of yet, though Retro Video Game Systems, Inc. President Mike Kennedy adds a little more on the subject.
"The COLECO Chameleon is a love-letter to all the classic cartridge based gaming systems that came before it and we love the fact it will succeed COLECO's successful Telstar and Colecovision product lines. It will take gamers and their families back to a simpler time where games were all about great gameplay and fun factor."
Look for the Coleco Chameleon to arrive some time this year.
Continue Reading >>> Source link