Convergence aside, this week's biggest books from pretty much any publisher are the '40s'. What are those, you ask? Batman, Superman, and Justice League numbers 40 of course.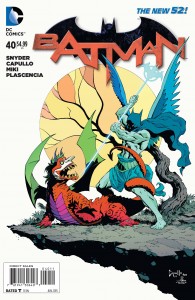 Justice League #40 less so than the others, but all three books are massive in tone for not only DC comics, but for comicdom, in both the short and long term.
Batman #40 brings Capullo and Snyder's epic Endgame arc to a close, and oh what a close it promises to be. This on not only promises to be a landmark issue for the Batman/Joker never-ending battle, but also for the Bat himself, as it looks like there'll be another character in a brand new bat-suit this Summer. If you're a die-hard bat-fan (like me) I also recommend reading the creative team's special interview on ComicBookResources.com, as it may help you cope with the fallout of this massive issue.
Also hitting today is Superman #40. A little less impactful that Batman #40, but only a smidge, this issue further delves into Superman's new ability, and what's come out of his using that power. This is also a solo John Romita Jr issue, which means that the artist has the floor as writer as well, and he's taking Clark Kent into some uncharted territory with it, with lasting repercussions.
And finally, Justice League #40 begins what's to be DC Comics' actual big Summer event in Darkseid War. Promised to be a continuation of what was begun way back in JL #1, the fortieth issue of the League's book will bring a pair of godlike evils to Earth, and right into the path of the DCU's biggest super-team.
There's plenty more than just that this week though, as Marvel has the final issue of Fantastic Four on the stands, and there's some great stuff from Dark Horse and IDW out there, so scroll down to see more of my can't miss picks for this last week of April. Then make sure you click on over to the Previews page with the full list of what's on the racks today.
Marvel Comics
Fantastic Four #645 – The End. This is it for the FF… or is it?
Princess Leia #3 – Leia heads to Sullust with the Empire in hot pursuit.
DC Comics
Batman #40 – see above
Superman #40 – see above
Justice League #40 – see above
Convergence #4 – The action heats up as the Earth-2 heroes search for the missing time travelers and Dick Grayson goes traveling through the multiverse with Telos.
Convergence Action Comics #1 – Lex Luthor and Stalin take on Superman and Power Girl… wait, Stalin?!
Convergence Justice Society of America #1 – The Society in action once again!
He-Man: The Eternity War #5 – Skeletor returns. That's really all you need to know isn't it?
Dark Horse Comics
Captain Midnight #22 – Marked for Death continues with an X team-up.
Order of the Forge #1 – George Washington vs zombies. Yep.
IDW Publishing
TMNT #45 – The beginning of the final storyline heading into issue #50 sees the Turtles in a mess, losing one of their own.
Transformers: More Than Meets the Eye #40 – The crew of the Lost Light have saved the known universe, but that doesn't mean they're going to take themselves any more serious.
Boom Studios
Big trouble in Little China #10 – Egg and Wong battle for Jack's should, while he tries to find a way out of hell, and a way to stab Lo Pan in the back.
Valiant Comics
Quantum and Woody Must Die #4 – Well, there goes Q&W… maybe.
Continue Reading >>> Source link