Holiday shopping just got a little easier for that e-comic fan on your list thanks to the leading digital comic storefront comiXology. The company has, for the first time ever, launched a digital eGift card initiative that should make gifting digital comics all that much easier.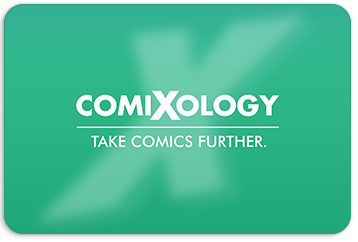 With a beefy 40,000+ comics and graphic novels to choose from, comiXology has something for pretty much any comics fan in their massive archive of all things comic book and digital. The new cards are redeemable for anything on the service (which can then be read through the PC or mobile platforms) and can be bought in values from $10-500 too and have no expiration date or pesky fees. After purchase, the code for redeeming the 'card' will be emailed to the recipient. That's it.
In short- they're super easy to buy and redeem. What's better than that?
"Shopping for friends, family and loved ones is hard, especially if they're comic fans, so the comiXology eGift Card takes out the guess work and makes it easy to be a comics gifting hero," says comiXology co-founder and CEO David Steinberger. "The comiXology eGift Card is another way we're making it easy for comics fans to get and give the comics they love. "
If you'd like some more info on the gift cards, click here to head to the official comiXology page for 'em.
Continue Reading >>> Source link