July 23, 2013
Indie, News, past
674 Views
The cyberpunk side-scrolling RPG shooter is ready to try, alongside a brand new trailer.
Following a successful Kickstarter campaign – $5,086 pledged on a $5,000 goal – solo indie dev Kee-Won Hong has opened the gates to Contract Work early. Originally pitched as a mix of the retro shooter action of Megaman and Contra, the character development of System Shock 2 or Deus Ex and the gritty cyberpunk settings of Akira or Ghost in the Shell; Contract Work puts players in a dystopian world in the year 2113, where society is run by enormous corporations who employ robot armies to do their bidding. As one of the very few capable of fighting back, players will complete missions in order to earn enough money for upgrades for their weapons, armor or abilities in order to succeed in their mission to free the human race.
Available here, the beta allows players to earn up to $20,000 of in-game currency, at which point they can pay $2.99 for further access to the game's later missions.
Created in HTML5, the game should run in all major browsers without the need for any additional software or plug-ins. Steam and Ouya are currently being considered as future platforms.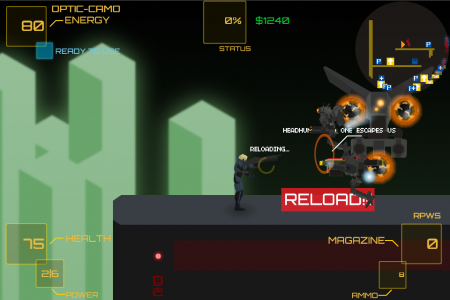 Continue Reading >>> Source link