If you've got Smash and a few extra dollars lying around, now's the time to jump on the latest SSB DLC Characters.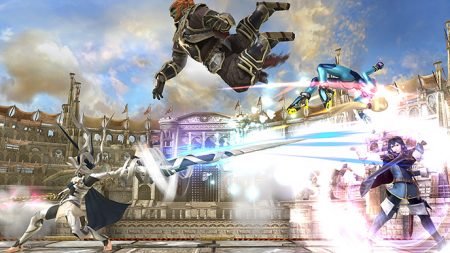 What are you waiting for?  The eShop isn't going to crash itself!  Umbran Witch Bayonetta (complete with Umbra Clock Tower) is available for purchase (and download!) right now for the asking price of $5.99 on 3DS, $5.99 on Wii U, or $6.99 for both.
But she won't be strutting her stuff alone: Fire Emblem Fates dragonkin Corrin brings a legendary weapon and (possibly) a legendary bloodline (I guess we'll find out on the 19th!).  The hero is sans stage, but pro-music, and available for $4.99 per console or $5.99 for a home on both.
Joining them are a bunch of Tails, Knuckles, Takamaru, and Ashley cosplayers- by which I mean Mii Costumes.
Check out the eShop for all your options, details, and purchases, and be sure to get your Super Smash Bros updating- even if you don't buy the characters, you'll want to relish in beating the influx of virgin Bayonetta and Corrin players.
Continue Reading >>> Source link