Europe and Japan will have to wait until Thursday, February 4th.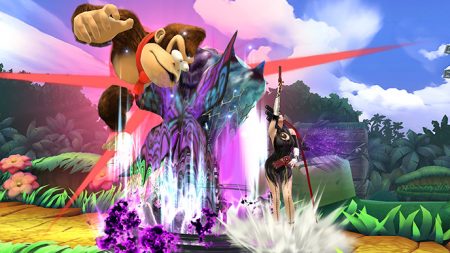 Recently announced final characters for Super Smash Bros Wii U and 3DS, Bayonetta representative Bayonetta and Fire Emblem Fates representative Corrin/Kamui/Player Avatar, are coming out earlier in February than initially believed: this Wednesday, expect the eShop to be down and the internet to be flooded with new streams of the new characters.
Bayonetta and the Umbra Clock Tower Stage will release as a bundle for $5.99 (or $6.99 for both Wii U and 3DS versions), while Corrin will be available as a standalone (with new music for the Fire Emblem stage), selling at $4.99 per console, or $5.99 for both.
The latest wave of costumes will also be available for purchase ($0.75 per console, or $1.15 for both), including:
Bionic Helmet + Bionic Armor (Brawler)
Takamaru Wig + Takamaru Outfit (Swordfighter)
Ashley Hat + Ashley Outfit (Swordfighter)
Gil's Helmet + Gil's Armor (Swordfighter)
Tails Hat + Tails Outfit (Gunner)
Knucles Hat + Knuckles Outfit (Brawler)
There are also some other bundle options, including an All-in-One Fighter Bundle (which includes all seven DLC fighters) for $34.93 by console or $41.93 for both, a Collection #6 Bundle, which includes February 3rd's newest content (characters, stage, and costume) for $15.48 per or $19.88 for both.  Lastly, you can also pick up the Mii Fighter Costume Bundle #6, which comes with the latest costumes for $4.50 per console, or $6.90 for both.
As always, remember: patience is the key when new characters release on the eShop.  Never give up until Corrin and Bayonetta are downloading in your queue.
Or you could wait for the weekend, when the traffic has invariably died down.
But who would do that?
Source: Smash Bros
Continue Reading >>> Source link