The turn-based RPG will hit Steam a full three months before release.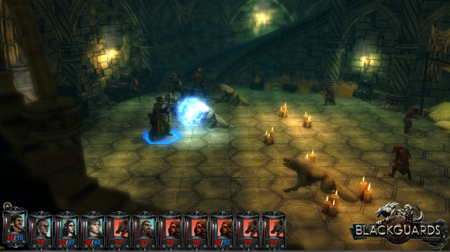 Steam's Early Access program gives gamers an inside track and actually gives them a voice on upcoming releases. You can not only purchase and play, but also report back to the developers on the status of games and your opinion on them under the Early Access banner, or which Blackguards is one of the newest.
The entire game won't be available right from the jump though. Daedalic will be releasing a total of five sequential chapters for gamers to play, each one spaced three weeks apart. You'll then be able to report back to the devs as to any issues you may find or just share your opinions with them.
As a thank you for buying in early, you also be getting the game at a reduced rate and get the final version of Blackguards after the game's complete and some pretty neat extras.
Daedalic Entertainment offers several packages for those interested in Early Access. In every case, players will secure access to the final version of Blackguards, by paying a lower price than they would if they purchased the game after its official release.

Additionally, they have the opportunity to purchase exclusive extras that will only be available before the official release: For $24.99/£18.99/€24.99, players receive the Standard Early Access Edition of Blackguards, including all chapters for PC at their earliest availability, and the full PC & Mac version of the game after the official release. For $34.99/£26.99/€34.99, players receive the Blackguards Early Access Deluxe Edition, additionally including an approx. 150 page artbook, as well as developer interview videos and six exclusive wallpapers.

Priced $49.99/£29.99/€49.99, the Blackguards Early Access Contributor Edition additionally includes an appearance of a buyer's name within the game's credits, as well as the first Blackguards DLC and a copy of the The Dark Eye point & click adventure Chains of Satinav for free.
Blackguards hits Steam Early Access on November 7th with the final version arriving in January.
Continue Reading >>> Source link