The publisher will be celebrating the 20th anniversary of the character this March.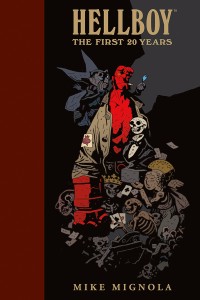 Mark your calendars Hell-fans, Big Red is turning 20 and Dark Horse Comics is celebrating in style. Beginning life in the pages of the Dark Horse San Diego Comic Con special edition, creator Mike Mignola's Hellboy crashed headlong into the comics industry with the Seed of Destruction story arc. Hellboy Day will celebrate the character with events scheduled to take place in comic shops nationwide this March the 22nd.
Dark Horse is inviting retailers to take part and will be offering retailer incentives on Hellboy and BPRD (which is awesome btw) legacy titles. There'll also be a new sampler book in stores that'll have a pair of Mignola stories with "The Ghoul" and "Another Day at The Office," and another two by Mignola and Fabio Moon and R. Sikoryak. Mignola himself will also be around for the event on the 22nd and will be at Meltdown Comics and Collectibles in West Hollywood, CA. There'll be more details on that one down the line.
Dark Horse Comics also has a 20 Years of Hellboy hardcover collection on the way. This deluxe oversized book will have "Mignola's favorite covers and illustrations in gallery style". The book will run from the very first drawing that the artist/writer ever made of Hellboy, right up through the present day. It should be cool stuff and will be in stores the same week as Hellboy Day, hitting stores March 19th.
Continue Reading >>> Source link