The silent work of Brazilian artist Gustavo Duarte will be published by Dark Horse Comics with a graphic novel called Monaters! & Other Stories.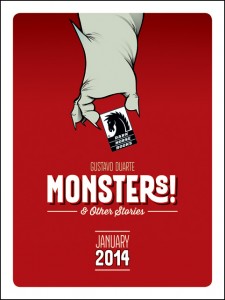 The book will bring together several pieces of Duarte's work including the city-shaking tale of giant Godzilla-like beasts run amok Monsters!, the tale of Alien Abduction down on the farm called Co! and the story of two business partners who've found out that fate is a thing you just can't outrun.
The three stories were previously only available in the artists native Brazil and come packed into a volume that's loaded with bold artwork and storytelling without so much as a single word. Now that's cool. Monsters! & Other Stories is actually Duarte's first book ever to see publication in the US, a fact that the creator is monstrously happy about.
"It is a joy and an honor to have my first book published in the USA by Dark Horse," said Gustavo Duarte. "It's really cool to have Monsters! published by the company that has produced the work of so many guys I admire, like Mike Mignola and Eric Powell, among others. I hope this is the first of many."
Catch Monaters! & Other Stories when it stomps all over comic shops on January 15th 2014- only form Dark Horse Comics.
Continue Reading >>> Source link