Dark Horse is giving fans a third trip back in time, for more of Buffy: The High School Years.
Happy Birthday Buffy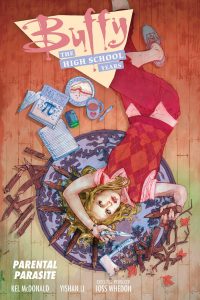 It's kind of tough to imagine (well, for me anyway), but Buffy the Vampire Slayer debuted on TV 20 years go. Yep, 1997 was the year when slaying vamps was all the rage for the high school set. Or something like that.
The point is, back then the character was in high school. And that's just where we're going for a third Dark Horse Comics series set in her early days as a hero. Joss Whedon himself is on board for this one, along with writer Kel McDonald and artist Yishan Li. All of the above will be bringing you Buffy: The High School Years—Parental Parasite.
In Parental Parasite, Buffy struggles to deal with her mother Joyce's sudden interest in spending quality time with her. Balancing this new development with her schoolwork, her friends, and her regular vampire-slaying duties proves to be a challenge. However, when Joyce becomes hypnotized by a childlike demon that craves motherly care, Buffy experiences a new kind of sibling rivalry—except in Buffy's case, her "sibling" is actually a monster!
Grab your stakes, and make sure they're nice and sharp, Parental Parasite hits the stands on June 28th.
Continue Reading >>> Source link