One of the most talked about indie books gets the deluxe hardcover treatment from Dark Horse Comics.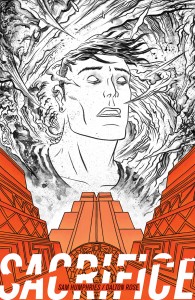 Sam Humphries and Dalton Rose not only created, but also self-published Sacrifice to get it to market. The book, about an average dude from San Diego who gets tossed through time and lands smack in the middle of the Aztec Empire, has been a big hit with critics and fans alike.
Originally published as a six part series, Sacrifice saw a whole mess of sell-outs and retailer demand as comic fans lapped up its mashup story of a modern man out of place and time. Now Dark Horse Comics will be giving an even wider range of potential readers a look at the comic with a hardcover edition that'll be suitable for any bookshelf. Think the creators of Sacrifice are happy about that?
"We could not be more pleased that Sacrifice has found a new home at Dark Horse," said Sam Humphries. "Their track record for gorgeous print editions is unparalleled, and their respect for comics is unquestioned. How cool is it that a whole new audience will be able to discover Sacrifice with a Dark Horse logo on the front?"
As for the publisher, they're pretty happy with the situation too, after all- Sacrifice is a pretty unique tale.
"Sam and Dalton created a phenomenon with Sacrifice, but this is how the story was always meant to be a read—a nice thick hardcover read dense with Aztec blood, time travel, post-punk psychedelia, seizures, and a totally relatable hero who just might have to participate in some human sacrifices," says Dark Horse Editor in Chief Scott Allie.
Find out if Sacrifice lives up to the praise when the hardcover edition drops into stores on September 3rd from Dark Horse. And if you just can't wait- you can actually preorder a copy right this very second on Amazon. Order one now for shipping in September- it's almost like time travel!
Continue Reading >>> Source link