The publisher cleaned up at this year's Eisner Awards, taking home a quintet of trophies across a pretty wide selection of categories.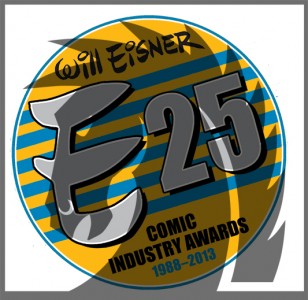 With 25 years in operation, Dark Horse has easily become the biggest independent publisher in comics here in 2013. The awards that they took home at the Eisner's this year showcase just why that's become the case. Whether it's BPRD, the excellent Dark Horse Presents, or one of their digital offerings, the publisher always maintains a level of quality that can be hard to come by in any industry.
Here are the categories and resulting awards that Dark Horse nabbed in 2013:
Best Anthology

Dark Horse Presents, edited by Mike Richardson. A 2012 Eisner and Harvey Award winner, this legendary, premier anthology is back and here to stay! The eighty-page spectacular Dark Horse Presents returns with all-new stories.

Best U.S. Edition of International Material

Blacksad: A Silent Hell, by Juan Díaz Canales and Juanjo Guarnido. A 2011 Eisner and Harvey Award winner, the first Blacksad collection is already in its sixth printing and approaching 20,000 copies sold! Detective John Blacksad returns, with a new case that takes him to a 1950s New Orleans filled with hot jazz and cold-blooded murder!

Best Painter/Multimedia Artist (interior art)

Juanjo Guarnido, Blacksad. The hardcover collection features an extensive making-of section, with tons of preliminary sketches and watercolor studies.

Best Coloring

Dave Stewart, Batwoman (DC); Fatale (Image); B.P.R.D., Conan the Barbarian, Hellboy in Hell, Lobster Johnson, The Massive (Dark Horse)

Best Digital Comic

Bandette, by Paul Tobin and Colleen Coover. A costumed teen burglar by the nome d'arte of Bandette and her group of street urchins find equal fun in both skirting and aiding the law. The hardcover collection features guest art by Steve Lieber, Jonathan Case, Alberto J. Alburquerque, and Jennifer Meyer and will be released on November 6.
Continue Reading >>> Source link