Enjoy your Dark Horse Digital collection in its native habitat- right on your Android handset or tablet; just in time for N7 Day!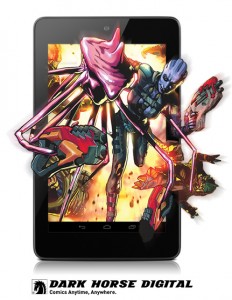 As long as there wasn't one though, it's about time that the publisher got around to releasing a dedicated reader app on the Android Marketplace.
The final version of the App debuts just in time for N7 day. What's that? Why it's the international day celebrating all things Mass Effect. No really… it is. And since it is that auspicious day and all, why not break in that new reader with a lil' Mass Effect goodness from Dark Horse's catalog?
The first annual N7 Day invites fans to celebrate the Mass Effect franchise worldwide, and what better way to do so than with the many critically acclaimed Mass Effect comics from Dark Horse.

Dark Horse Digital is offering a Blasto digital-comic exclusive for Mass Effect fans. Written by lead game writer Mac Walters, with art by Omar Francia, Blasto: Eternity Is Forever is sure to be a cult favorite among fans of the incredibly popular game series.
In all seriousness, the stuff that DH produces is really excellent overall. I've read a few of the ME titles and really gotten into them- and I'm not even a fan of the games. So enjoy! And save a slice of that N7-cake for me!!
Continue Reading >>> Source link