Damon Gentry and Aaron Conley weave a tale of 'in your face' action and adventure with a mystical twist.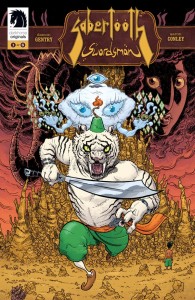 When his village is enslaved and his wife kidnapped by the malevolent Mastodon Mathematician, a simple farmer must find his inner warrior! Granted the form of the Sabertooth Swordsman by the Cloud God of Sasquatch Mountain, our hero embarks on a treacherous journey to the Mastodon's fortress, along the way getting beaten to a pulp by ogres, plague mutants, the king's army, and goats! With astonishingly intricate artwork, over-the-top action, and hilarious characters, Sabertooth Swordsman is the freshest, funniest adventure comic of the year!
Don't let all the comedy fool you by the way, because writer Gentry is promising that Sabertooth Swordsman is going to be one violent ride. Said Gentry "If you like your hot new indie comic debuts smack full of wall-to-wall violence and adventure, and almost zero moral ambiguity or crushing existential dread, then, BOY HOWDY, have we got the comical book for you! You're going to love Sabertooth Swordsman; we nearly guarantee it,"
The latest in the Dark Horse Originals line, the book will see a digital release before hitting stands. Sabertooth Swordsman is planned as a six part digital offering through Dark Horse Digital before being collected into a hardcover graphic novel set for release this Fall.
Sabertooth Swordsman part 1 is available now, you can get your digital copy here.
Continue Reading >>> Source link