People LOVE Avatar. Don't believe me? Check out Dark Horse Comics' Avatar: The Last Airbender—The Rift Library Edition, which just struck #1 on the New York Times bestsellers list.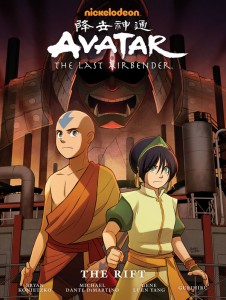 Following the further adventures of Aang and company, The Rift Library Edition collects some of the most popular Avatar books around.
Avatar Aang and friends honor an Air Nomad holiday that hasn't been celebrated in over one hundred years, but when cryptic visits from the spirit of Avatar Yangchen lead Aang to a refinery operating on land sacred to the Airbenders, they soon find themselves in peril as a dangerously powerful ancient spirit awakens with vengeance and destruction on its mind! Collects The Rift Parts 1–3.
This isn't just an extension or 'expanded' vision of canon, as these comics are honest-to-goodness continuations of the beloved cartoon series, and a perfect companion to The Legend of Korra.
A 'Library Edition', The Rift isn't just a collected volume either, as the book has a commentary track, the likes of which you'd probably be more used to finding on DVD and Blu Ray special features lists. Annotations from writer Gene Luen Yang and series creators Michael Dante DiMartino and Bryan Konietzko, join notes from the artistic team at Gurihiru, to produce a backstage look at the making of the original Rift series. And even further, the book has a sketchbook section added in. Not too much of a stretch to figure it as a best-seller with all that then is it?
Part three of the Avatar: The Last Airbender Library Editions, The Rift joins The Promise and The Search in the series of deluxe tomes and is available right now. Also available at the moment, if you should simply want the story without the extras, is a softcover version of The Rift. Your pick Airbenders.
Continue Reading >>> Source link