DK's excellent historical archive of the DCU and its characters gets a much needed update to keep it current with the 'New 52' universe.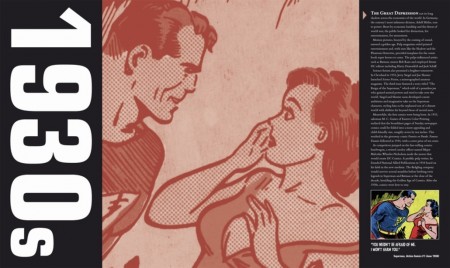 I freaking love these kinds of books. Seriously, I think I have some kind of weird addiction to them as I have a shelf full that spans the gamut of comic book heroes, universes, and publishers. No one really does it better than DK either and among my favorites are the publisher's Marvel and DC 'visual histories'. If you're not sure what that title means, basically you can think of it like this; a visual history is a collected look at a complete timeline/history for a fictional (or real I guess) universe. Where the 'visual' part comes in is that the books are loaded with pictures and illustrations, which certainly lend themselves to this particular art form.
So you'll actually see the characters that are relevant to the particular work, not just read about them, and have a detailed look at the ins and outs of the time and space that the story in question takes place in. On the DC side of things, there are tomes for the Justice League, Superman, Batman, Wonder Woman, and a bunch of others- and they're all great in their own right.
This review isn't for a book about the League though, or any particular character. It's instead about DC Comics in general and the tremendous history that the publisher has had. In a few ways, it's more interesting than the fictionalized accounts of the perviously named books above, especially if you're a fan of the medium.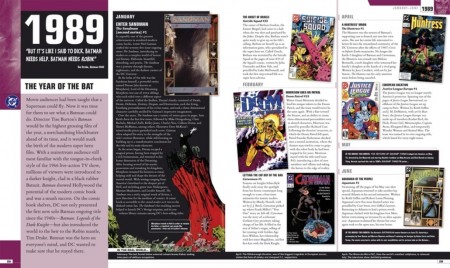 Outfitted in a hardcover dust jacket, the book is cast in an oversized format and is adorned with a fantastic cover that has loads of pencil-style illustrations of the greatest heroes and villains in the DCU, all of which give way to the big three (smack dab in the middle of the cover) that makes up the publisher's Trinity, that being Superman, Batman, and Wonder Woman.
Two-thirds of this trio are included as art prints by the great Jim Lee (now co-publisher of DC Comics), which are suitable for framing and hanging if you like. I'm a little disappointed that there's no WW print as well, since she's of ever increasing importance in DC in general and figures into most of the bigger stories. Though it should be pointed out that Bats and Supes are still the most popular DC heroes in existence, as well as two of the most recognizable comics characters globally since their inception, so I guess it's understandable. These books from DK also seem to ship with two prints each, and really don't deviate from that at all- though it would have been nice here.
Past that though, and when you get into the meat and potatoes of the book, you'll see that the table of contents and the chapters themselves are broken down into a timeline, with chapters ranging from the 1930s through the 2010s. Although every decade is covered pretty deeply, there isn't a year by year breakdown present, which is also probably understandable as I'm sure there are some years where nothing all that Earth-shaking happened. Still though, as histories go, this is pretty well cataloged.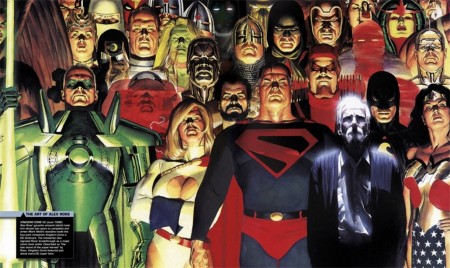 The 30s kick off with a few miscellaneous books that lead into Detective Comics #1,and the real beginnings of the DCU, in 1937. There were no big bold heroes here though, as the book features -shock- detective stories starring gumshoe Slam Bradley (who's still around) and others. It also marked the debut of a certain writer/artist duo by the name of Jerry Siegel and Joe Shuster. You might be familiar with these names as they went on to create the 'first' superhero, Superman.
Big Blue debuted in 1938, in the pages of Action Comics and was such a hit that his own named book, Superman, hit the racks in 1939 along with a certain Dark Knight of Gotham City with Detective Comics #27. From there DC became the superhero show, as the genre took off with readers and took over DC's publishing slate almost completely.
Now of course, superheroes are an ingrained part of pop culture and a hit not only on the comic shop shelves, but also in theaters as the formerly niche industry has dominated. It's particularly interesting though, to see the evolution of the art form and track the progress of the characters who would become some of the biggest and best-loved in history. Along the way up to the present age, you'll read plenty of facts about DC and see some really cool artwork as well.
There are big splashes scattered throughout the book as well, in centerfold style, along with more than enough visual excerpts and covers from the actual comics that the book chronicles. Some of the biggest events from throughout DC history take centerstage, but there are loads of minor events and factoids as well. There's even a ticker of sorts that runs along the bottom of each page that tells the story of what was happening in the real world at the time, which is surprisingly awesome and served to pull me into the book even more.
Final Thoughts
As a fan for years and years, it's particularly interesting to be presented with a book like this, as you find the era that defined these characters, as well as what made them iconic, for you in specific. Honestly, I found the 80s/90s-covered pages in here and devoured every aspect of the two decades.
Even though I like the current DCU just fine, that era will always define comics for me, as well as the characters that inhabit the DC (and Marvel) universes. I imagine it's different for everyone though, and that's where a book like this really shines.
No matter what kind of a DC Comics fan you are, or whichever time period you remember the fondest, there's something for you in DK's DC Comics: A Visual History Updated Edition. I highly recommend the book of that reason, as well as the fact that you're pretty much guaranteed to uncover plenty of facts that you never knew before about these characters and the publisher behind them.
If you're a comics fan in general actually, you really can't go wrong here.
Continue Reading >>> Source link