An alien virus capable of wiping the globe clean is on the loose, and the first issue of Valiant Comics' newest mini-series sees X-O Manowar trying to stop it.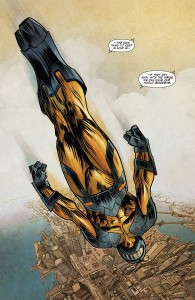 A four issue series, Dead Drop focuses on a different Valiant hero in each volume. Things start out with one of the biggest heroes in the Valiant U with X-O Manowar himself, Aric of Dacia. Now an on-again-off-again part of the superteam called Unity and a definite superhero, Aric's days of being on the wrong side of the Earth's modern governments are behind him (maybe) and this first issue of Dead Drop sees him working with his Unity handler, and MI-6 agent, Neville Alcott.
Alcott has sent Aric into the heart of NYC to track down a runner who's carrying a deadly virus… or actually, it's more of an antibiotic. An antibiotic that was genetically modified by an alien race and used to purify planets throughout their sector of space, but still, an antibiotic. Well, it was an antibiotic until it gained consciousness and decided that it didn't really like doing that anymore. Long story short- it attacked and killed off its creators, then made for the spaceways.
How the killer germ ended up on Earth (albeit in a very small amount) isn't related in Dead Drop #1, but there's more going on here than is being let on by Alcott. Maybe a lot more, and it certainly seems like Aric isn't liking it too much by the issue's end. It's actually kind of hard to believe that his part in this story concludes with the close of the first issue, as there seems to be plenty more for X-O Manowar to do in Dead Drop, so it should be interesting to see if he either reappears somewhere in the next few issues, or if the Dead Drop storyline pops up in X-O Manowar's solo book.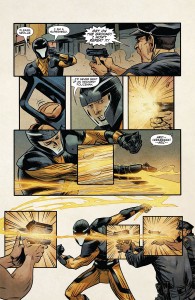 I don't want to give away too much though, because it seems like reading through Dead Drop and catching little clues here and there is half the fun with this one. It feels like a mystery as much as a 'superhero' story and that's a pretty cool vibe. Aric takes some crap in this issue too. Not that anything can hurt him really, as long as he's in his alien armor anyway, but he does some things that I'm not used to seeing him do. Of course, he has his breaking point too, and that's a fun moment.
Ales Kot's script is pretty tight here, setting the stage for what's to come and dropping little hints here and there. It's interesting too because this is kind of virgin territory for Valiant. Dead Drop has really been promoted as a series of standalone titles, each brought into an overall story by the main plot device. I don't recall them doing anything like this in the past, and so far it's really enjoyable. It was a surprisingly tense read too!
Lending to that was Adam Gorham's artwork. I'm not familiar at all with his stuff, but it hits a bunch of the high notes for me. Gorham's art is heavily lined (which I like) with a cartoony flair (which I like) that reminds me a bit of Darwyn Cooke at times. It's a more detailed Cooke, but still, the similarity is there (and that's a good thing).
Final Thoughts
I wasn't expecting to get into Dead Drop, but I'm glad I did. It hasn't really been promoted all that heavily, and nowhere near as much as Valiant's other crossover events like The Valiant or Harbinger Wars, but it nonetheless does feel like something special. There's an air of something hidden behind the scenes here too that really stands out as you read, and hints of a much bigger event that's happening outside of the main narrative. I think it fits to say that it feels like the other shoe is about to drop, and in that way Kot has woven a really great and engrossing story around the action. And one that has me ready for issue #2 (and 3 and 4…)
With a great story cooking, and some really cool art from Adam Gorham, Dead Drop is a book that no Valiant fan should skip over without a look. And if you're new to Valiant's universe of heroes and villains, it might offer one of the best entries into the lives of some of the biggest characters that they have to offer.
Continue Reading >>> Source link