Deep Silver's MOBA with zombies (it's a ZOMBA!) is finally available on Steam Early Access in free-to-play form, with a trio of pricing tiers.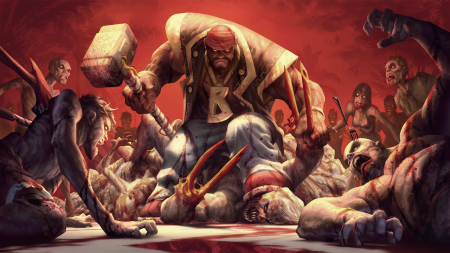 The publisher announced this week that the Dead Island series' fan favorite character of rapper-turned-zombie slayer Sam B will be returning to fight the undead once again in Dead Island: Epidemic (DIE) for the PC. The ZOMBA will play host to Sam and a bunch of other player-characters all vying for one thing- to survive the onslaught of the recently dead.
Along with Sam, Deep Silver also announced a trio of pricing tiers for the game including options for more weapons, characters, boosts, and even some additional copies of the game so you can get your buddies in on the zed-killing fun.
 Patient Zero Pack ($16.99) – The entry pack offers 5 unique weapons, 3additional characters, the "Golden Sprocket Hammer" as well as boosters, character & gear points and in-game cash.
 Deadicated Pack ($39.99) – The "Deadicated Pack" includes all of the"Patient Zero Pack" plus additional content: six Tier 2 weapons, the "Golden Precise Shotgun", the "Keghammer", a larger booster and bundle of character & gear points and in-game cash plus exclusive access to Sam B as playable character. Additionally, players will also receive even more items & characters once the game heads into Open Beta and then again at the launch phase.
 Contagion Pack ($44.99) – With the "Contagion Pack", players can spread the Epidemic to their friends. It offers everything that is in the "Deadicated Pack" (with an alternate "Contagious" in-game title & icon) four times: once for the player and three gift copies that they can share with their friends.
Usually I'm not much for them, but don't let the free-to-play banner dissuade you from taking a look at DIE if you're a series fan. Deep Silver is promising that the game will stock "all the trademark elements that are part of a Dead Island experience and much more", so it sounds like they're looking to make DIE a real dead-bashing time that you can dig into- even if you don't much care for free-to-play.
Dead Island: Epidemic is available right now for the PC at all four of the pricing schemes (if you're counting the 'free' version).
Continue Reading >>> Source link