2,438 Views
Stalk your Home-ies as the Raincoat Killer from Deadly Premonition: Director's Cut.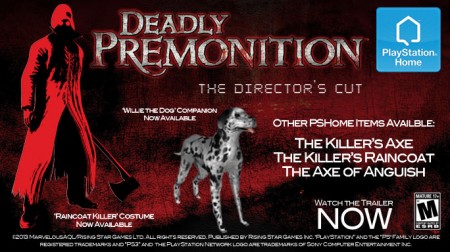 Not someone that you'd usually want to run into at 'home' home, the Raincoat Killer is nonetheless a pretty cool addition to PlayStation Home. Now you can deck out your PS Home avatar in the look and axe of the murdering psycho from Deadly Premonition: Director's Cut from Rising Star Games.
Of course, if looking like a kook with a deadly implement of doom isn't really your thing, you might be into adding Willie the dog to your Home as a companion. Nothing like a dog to keep you company while your buddies dress up as ol'Raincoat and try to scare the poop out of you, after all.
Also on sale now are just the raincoat of the killer, his axe and the Axe of Anguish; all available right from PS Home on your PS3.
Continue Reading >>> Source link