As mysteriously as it disappeared, Wade Wilson's game has returned to the PC.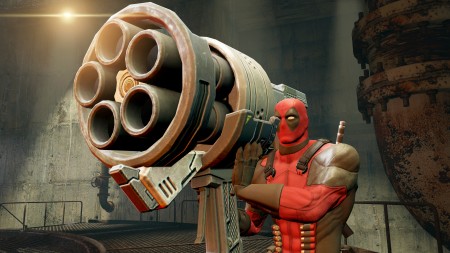 Deadpool's first (and only) video game appearance as a lead character was unceremoniously yanked from Steam and other online gaming platforms in 2014 for reasons that were somewhat murky at the time. Actually, they're still unknown as little has ever been addressed about the culling, which saw Activision's other Marvel-branded games get the heave-ho as well.
I had personally just assumed that the removal had to do with the fact that Marvel was purchased by Disney, and that much like with the Star Wars (Disney owns that too now) comic book license that was held by Dark Horse, the rights got pulled out from under them. Now though, it looks like Deadpool has returned along with the DLC pack that was available for the game.
It doesn't make a whole lot of sense, unless somewhere behind the scenes Activision was able to recover the ability to sell games that exist as legacy titles. Though I'm not sure if that fits either as no other Marvel games have been re-posted, leaving only Wade and the movie The Amazing Spider-Man title (which I think has always been there) as the last games standing. So far too, the game has not reappeared on consoles, which is also kind of weird.
We'll keep you posted if that changes at all, but in the meantime, you're free to grab a copy of DP if you missed it the first time around for the PC. It's a surprisingly good game too, so there's that.
Source: MCV
Continue Reading >>> Source link