Looking forward to Homefront: The Revolution? Then you might be interested in the Goliath Edition, which includes an R/C drone car.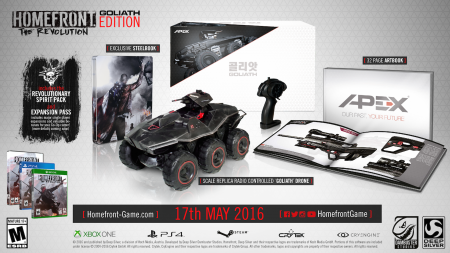 Special editions of games have long included no end of extras and goodies related to the games that come packed within, but in recent years it's gotten bumped up to a whole new level. We've seen night vision goggles and even refrigerators as bonus items, but I don't think a remote controlled car has even made an appearance. Well, till now anyway.
Homefront: The Revolution – Goliath Edition includes just that, a replica of the Goliath drone car that is used in the game. The little drivable isn't the only thing that you'll be getting with the Special Edition though; here's what else is in the box:
A radio-controlled scale replica 'Goliath' Drone, with working lights and six-wheel suspension. The Apex-manufactured Goliath is one of the most fearsome weapons in the KPA's Counter-Insurgency arsenal.
Exclusive collector's 'Steel Book'.
A 32 page art book featuring Resistance-themed concept art and cutting-edge Apex technology.
The 'Revolutionary Spirit' pack, including The Red Skull motorbike skin, a Golden skin for your pistol, and instant unlocks of the Marksman Rifle, Sniper Scope and Remote Explosives for your Co-Op character in Resistance Mode.
The Homefront: The Revolution Expansion Pass, entitling access to major single player expansions – further information to be revealed at a later date.
All post-release content for Homefront's co-operative Resistance Mode including new Missions, challenges, features and additional items and equipment will be delivered to fans for free as part of Dambuster Studios' commitment to supporting this mode for 12 months.

"We're planning for a dedicated team to work on additional single player content for at least a year after release" said Hasit Zala, game director at Dambuster Studios.  "We have some exciting ideas that we hope to develop further post launch, but the overall goal is to add some surprising  new experiences to the world of Homefront that complement our 30 hour single player campaign. All additional single player content will be covered by the Expansion Pass."
And if you're considering buying into the Goliath Edition (or any other edition of Homefront really), then you might want to pre-order yourself a copy. Publisher Deep Silver has announced a few bonuses today as well, which you'll get by buying in before launch.
Here's what you can get, and where you can get it. Homefront: The Revolution launches on the Xbox One, PS4, and the PC on May 17th in the US, and on the 20th everywhere else.
Pre-Order Homefront: The Revolution from any retailer to secure the Revolutionary Spirit pack, which includes:

The Red Skull motorbike skin for campaign
The Golden skin for your pistol for campaign
Instant unlocks of the Marksman Rifle, Sniper Scope and Remote Explosives for your Resistance Mode character

All Digital pre-orders come with the Liberty Pack, featuring two pieces of rare combat gear unlocked and ready to personalize your Co-Op character with the Liberty Body Armour and KPA Shock Trooper Helmet.

Further pre-order bonuses are available with these North American selected retailers:

Kickstart your Co-Op Freedom Fighter's career with the Guerilla Care Package at GameStop: Five 'Resistance Crates' full of random weapon blueprints, attachments, equipment and more.
Enhance your guerrilla skills with the Combat Stimulant Pack also at GameStop to give your Freedom Fighter a critical boost in the heat of battle.
Wage guerrilla warfare in style with the Wing Skull Pack at Amazon.com, including the Wing Skull motorbike skin and the Silver Pistol skin in the campaign.
Pre-order to receive the limited edition Steelbook only available at Best Buy.
Continue Reading >>> Source link