Detroit: Become Human is making a comeback, and is en route to the PC. It's doing so in fine form, with a collector's edition that's ready for pre-order.
Becoming
Released originally on the PS4, Detroit: Become Human is a Quantic Dreams game. That should immediately be setting off alarm bells, especially if you're a Sony gamer, since the studio's catalog is based primarily on the company's platforms.
Their games are also usually a little more interested in mature themes, and in making you think more than respond with fast-action. And as QD's games go, Detroit is no different.
Set in a world that's somewhat reminiscent of universes like Blade Runner, I Robot, and Westworld, Detroit sets you into the shoes of 3 playable characters. And of course, like any of the above mentioned properties, this is no happy-go-lucky tale.
Here's the launch trailer from the PS4 edition:
While that's the PS4 version above, the title is finally making its way to the PC as well. That's going to be an event met with a special collector's edition of Detroit. It's a pretty packed one too, with a whole bunch of stuff fans of the game will want to check out.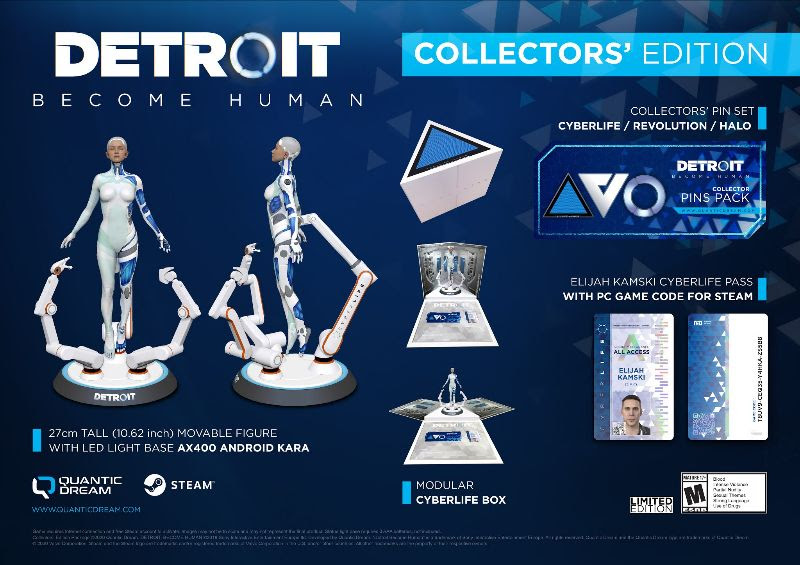 As you can see in the image above, Detroit's CE is loaded.
The Collectors' Edition contains a holographic I.D. card from Cyberlife with a unique Steam game code inscribed on the back, a set of three pins representing iconic symbols from the game and an exclusive statue of android and protagonist "Kara".

The 27cm statue (10.6 inches) sits on a base illuminated by an LED ring and features articulated robot arms. Its triangular box (420 x 365 x 375 mm) mimics the android creation scene in the CyberLife factories.  

Limited Run Games press release
Carried by Limited Run Games, as well as the Quantic Dreams online store, and "select retail partners", the box set will run you a hefty $349.99 USD. It's pre-orderable right now, and tentatively set to ship out some time before year's end.
Continue Reading >>> Source link