Deus Ex arrives on iOS soon with an all new game titled Deus Ex: The Fall.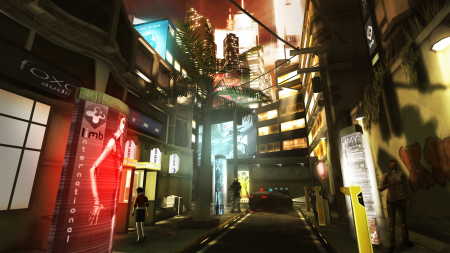 The Fall will be a first-person action/RPG that publisher Square Enix says will be the first entry in a new Deus Ex series that will run on the iOS platform.
DEUS EX: THE FALL is set in 2027– a golden era for science, technology and human augmentation, but also a time of great social divide and global conspiracy. Powerful corporations have seized control from governments and command the drug supply needed by augmented humans to survive. In this chaos Ben Saxon, a former British SAS Mercenary who underwent physical augmentation, is desperate for the truth behind the drug conspiracy. Betrayed by his private military employers, the Tyrants, not only is his own life at risk, but for all augmented humans, time is running out…
Developed in Europe by Square Enix' Mobile division and in conjunction with Deus Ex: Human Revolution developers Eidos-Montréal and N-Fusion, The Fall is a direct sequel to the novel Deus Ex: The Icarus Effect. Fans who've read the book can expect to see some of the characters pop up from its storyline as the game takes place directly after the book closes.
As for whether or not a game like Deus Ex can have a fully fleshed out and 'true' console experience on iOS, Square Enix is pretty confident that they can deliver the good to fans.
"We're really excited to continue the DEUS EX series on mobile and start a new journey", said Jean-François Dugas, Executive Game Director at Eidos-Montréal. "The team has done an incredible job creating a whole new story and controls for intuitive touch screen gameplay, whilst staying true to the DEUS EX universe. Players can expect exploration, action, hacking, stealth, social enhancers, player choice and consequence- the full DEUS EX experience."

"Smart devices are central to Square Enix's platform strategy and we approach it with the same attention as our boxed and digital releases. DEUS EX: THE FALL is going to be testament to our commitment in delivering high quality entertainment on mobile and tablet devices," said Antony Douglas, General Manager of Square Enix Mobile.
Square Enix has actually delivered on iOS before with some excellent mobile versions of Final Fantasy and the exclusive Chos Rings series, so it's probably a really good idea to watch Deus Ex closely- it just might be something special. Look for Deus Ex: The Fall to arrive on iOS sometime this Summer for $6.99 USD.
Continue Reading >>> Source link