The next add-on pack is officially available for Deep Silver and 4A Games' excellent posy-apocalyptic shooter.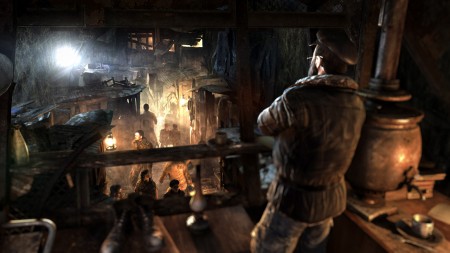 The Developer Pack includes a very interesting set of additions for the game including a solo mission, a shooting range and a… museum?
Players can experiment with every gun and attachment combination in the Shooting Range, and complete unique marksman challenges for each weapon
• The AI Arena allows players to pit customisable squads of human soldiers and mutants against each other, or prove themselves in several challenges
• Lastly, players can explore Metro's cast of characters, and human and mutant foes, up close in the 'Metro Museum
The Developer Pack also includes an original solo mission – The Spider's Nest – that will truly test the nerves of arachnophobes. Use your wits, your lighter, your torch… and the brand new Flamethrower to escape from a spider infested catacomb…
That's one busy piece of DLC right there. It's also the penultimate release for Metro: Last Light, who's final downloadable content pack will see release in the form of the Chronicles Pack later this month. That particular addition looks to be the most interesting of the bunch too as it features a selection of single-player story mission that star Pavel, Khan & Ulman, and Anna from the campaign. All of the missions take place as side-stories to the main title and Artyom's quest, which is really neat considering all of the characters in the FPS were pretty cool in their own right.
The Developer Pack is available right now for the Xbox 360, PS3 and PC versions of Metro: Last Light and will cost you $3.99 USD to add onto your game. The set (as well as the Chronicles Pack) is also a part of the Season Pass for the game, which is still very much available for $14.99.
Our review of Metro: Last Light is also very much still available, and can be found right here.
Continue Reading >>> Source link