Dark Horse Deluxe is preparing a brand new offering in their super-detailed Mass Effect replica starship line with the Turian Cruiser.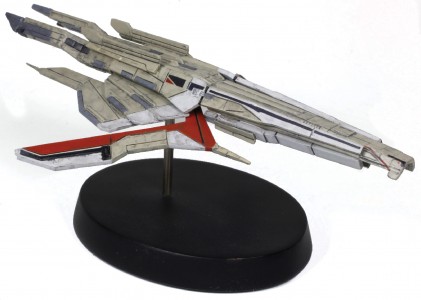 If you're a Mass Effect fan then you already know the story of the Turian and how they helped build the now iconic Normandy. If not, all you really need to know is that the Turian are one of the lead species' that participate in the Citadel Council and bolster the forces of the Citadel military fleet regularly with craft of their design and construction. The Normandy, which is Commander Shepard's ship in the Mass trilogy, is one of theirs- hence the similarities between the two.
In all, Dark Horse Deluxe has produced four ships from Mass Effect to date with some fantastic results. Basically, fans have been loving them and one of the biggest reasons is the close relationship that DHD has with the development team at BioWare and EA.
"We have been overwhelmed by the support gamers have given our Mass Effect ship replica series," Dark Horse's David Scroggy remarked, " and look forward to continuing the line with this latest release. We have been working directly with the Mass Effect game design team, interfacing with them to obtain the exact 3D design specs that ensure accuracy of detail."
The Turian Cruiser ships with a special insert that will have a code usable in Mass Effect 3 to sweeten the deal a bit for big time Mass players. Not that they probably needed it, I have a feeling that one of these bad boys would make pretty much any gaming 'lounge' or desk all that much cooler. I'm not even a fan of the universe it's based on and I'm thinking about snagging one for myself.
If you are too, you can expect to see the Turian Cruiser appear on shelves this November the 6th for $34.99 USD.
Continue Reading >>> Source link