The latest Dragon Age title made an impressive entry onto Raptr's PC gaming charts in December, even though the rest of the rankings held pretty firm.
I don't want to say that PC gamers tend to like what they like, but you can't deny that the numbers on Raptr's chart for the most played PC games in December speak volumes. For a month where there are tons of new games hitting PCs, there's very little movement (in any meaningful way) here.
Sure Dragon Age: Inquisition started it's campaign to eat away at gamer's free time, but that was the real shake-up that hit the ranking. Little else changed at all as League of Legends, World of Warcraft, DOTA2, Counter Strike: Global Offensive, and Smite all stood pat, making up the top five.
You can check out the full listing of what's what in the infographic below, and then read through an even more detailed breakdown provided by Raptr beneath that.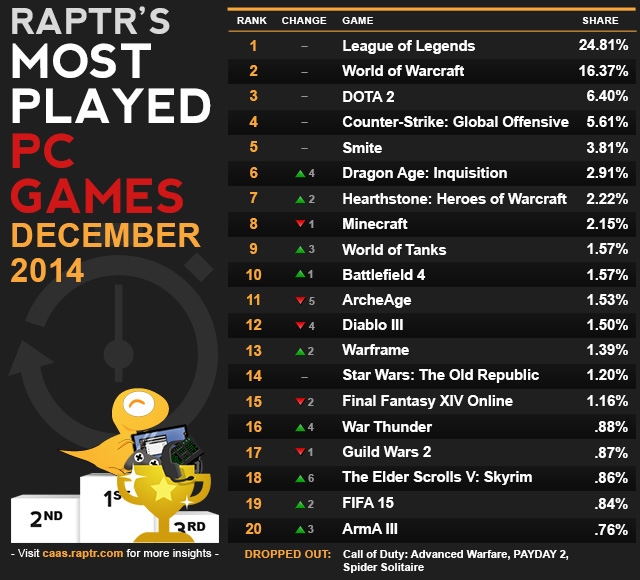 The year ended on a positive note, with nearly all titles in the top 20 increasing play time — though overall time was up a modest 4.84% from November to December.

Highlights

League of Legends closed out 2014 in the top spot once again, up 30.09% in play time compared to November. Contributing factors included a big preseason patch, a "vault-clearing" Snowdown champions/skins sale, exclusive Summoner's Rift icons, and a limited-time game mode called Legend of the Poro King.

World of Warcraft remained in second place in December. WoW was riding high on its Draenor expansion in November, and discounts along with holiday events continued the momentum and led to an impressive 9.94% boost in December.

Even though the Frostivus holiday event was canceled this year, DOTA 2 play time climbed 27.92% versus November. The mid-month Shifting Snows update was relatively minor, yet gameplay spiked significantly around launch.

Counter-Strike: Global Offensive had a 60.64% surge in December, thanks in part to a sale on Counter-Strike Complete (which includes several CS titles) and the reintroduction of the classic Train map, which was free for all CS: GO players.

Smite's play time was up 21.45% compared to November. The MOBA introduced a new god in mid-December, but it was a limited-time bonus and all-gods-available-for-play event that saw game time peak at the end of the month.

December was Dragon Age: Inquisition's first full month on sale, and play time has held strong after its mid-November launch. Total monthly hours were up 114.29%.

Hearthstone's Goblins Vs. Gnomes expansion helped to move the game up two places in December's Most Played, thanks to a 63.19% play-time surge.

World of Tanks and Battlefield 4 both rose in top 20 rankings as well as play time. World of Tanks (26.11% increase) moved up three spots thanks to Update 9.5, holiday events, and WGLNA Season 5 matches, which players could watch from the game launcher. Battlefield (24.38%) moved up a rank to close out the top ten.

ArcheAge and Diablo III were the only titles in the top 20 to lose play time in December. ArcheAge was down 22.15%, and Diablo lost 9.19%.

December was good for Warframe as it gained 62.4% play time compared to November. Archwing add-ons, new Prime Access, and holiday bundles were major contributing factors.

Star Wars: The Old Republic released Shadow of Revan in December and saw a 33.35% play time bump. The game remained in 14th place, however.

The Elder Scrolls: Skyrim, FIFA 15, and ArmA III all made a return into the top 20 for December. Skyrim, which soared six ranks, gained 78.25% play time. A major discount to the Legendary Edition of the game was the main factor in its return. In-game holiday sales and discounts to the title brought FIFA 15 back into the top 20 with a 50.34% increase. ArmA III returned to the top 20 with a 47.15% increase thanks to sales.

Note: The Share number by each game represents that title's gameplay time as a percentage of the total time spent on all the PC games played by Raptr members, and is useful for comparing the relative amount of play time between particular games.
Continue Reading >>> Source link