Some of the most iconic characters from Star Wars: A New Hope, Jawa's are making their way to Chicago for C2E2 this weekend- but in a very limited way.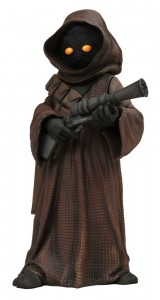 Diamond Select will have only 250 pieces of this limited edition Jawa bank on hand for purchase at the show. So what's different about this piece and the standard model? The C2E2 Jawa is packing heat that's what.
The regular old Jawa bank that you can pick up at specialty stores or comic shops is holding a restraining bolt caller in his grubby little mitts- the C2E2 Jawa is carrying an ion blaster to zap meddlesome droids with. That's just nasty, but then I don't think Jawa's were ever all that lovable.
In any event, get there and get one for yourself, because with only 250 pieces of the little guy available (which are $22 USD each), they're going to go faster than a Skywalker in a Landspeeder.
Continue Reading >>> Source link