Diamond Select Toys is shipping some very long awaited items this week, including Captain Kirk from the new Star Trek Select line and series 1 of the Star Trek Legacy Minimates.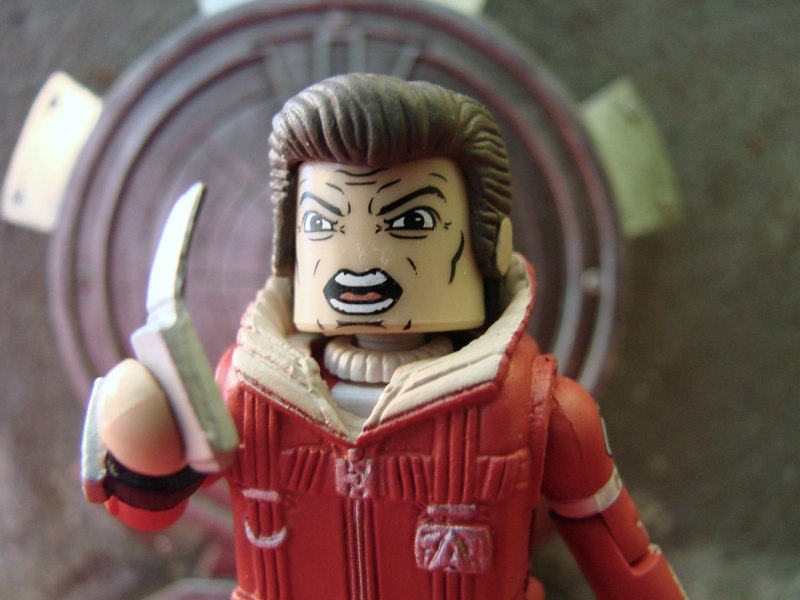 I've been waiting for this for a while, so I'm pretty happy to see Trek hitting in a big way this week from DST. The Star Trek Select line looks by all accounts to be a winner of a series even in this early going. Kirk is extremely faithful in his representation and looks spot on like actor William Shatner. And who's going to complain about getting a free Khan?!
As for those Minimates, I've been waiting forever for them. Some of these characters have never seen action figures of any kind before and they're all classics from their respective shows/movies.
So yes, there is a good sized amount of Star Trek merch coming this week, but that's far from all DST has in store for you tomorrow at comic and specialty shops. You'll also find the very cool 'Hulk through the ages' box set of Minimates and the super-cool Han Solo in Carbonite bank – that could easily just double as an awesome desktop or collector's shelf item.
Check out what's new and in stores tomorrow:
Star Trek Select Kirk Figure

It's an all-new Star Trek action figure line designed especially for collectors, and the second offering in this series is Captain James T. Kirk! This 7-inch scale figure comes with a section of the engineering room of the U.S.S. Enterprise that's in scale to your Original Series action figures, and has a reversible wall panel. THe diorama includes a reeling figurine of Khan from the classic episode "Space Seed," and Kirk can wage combat using his interchangeable parts, including alternate pipe-holding hands, leaping legs and a support peg, for for a variety of display options! Sculpted by Patrick Piggott! (SRP: $24.99)

Star Trek Legacy Minimates Series 1 Assortment

Star Trek Minimates return! With the USS Enterprise getting the Minimates Vehicle treatment next month, DST is bringing back Star Trek Minimates with a full assortment from across two TV shows and two movies! The first series of two-packs includes Wrath of Khan Captain Kirk and Khan, First Contact Captain Picard and Borg Queen, Captain Sisko and Jem Hadar and Captain Archer and Xindi from Enterprise! Each Minimate stands 2 inches tall with 14 points of articulation and a variety of removable and interchangeable parts and accessories, including show-specific weapons. All of these Minimates will only be available on the specialty market, so order boldly! (SRP: $9.99Ea.)

Star Wars Han Solo in Carbonite Vinyl Bank

No wonder Han Solo was worth so much to Boba Fett – he was full of Boba's loose change! Standing over 12 inches tall, this vinyl re-creation of Han Solo frozen in carbonite from the end of The Empire Strikes Back features a coin slot and a freezing-chamber-inspired base. Save up your bounties for a rainy day in one of our biggest Star Wars banks yet! (SRP: $23.00)

Marvel Minimates Hulk Through the Ages Box Set

Celebrate ten years of Marvel Minimates with the line's brawniest box set ever, featuring none other than the Incredible Hulk! This specialty-exclusive four-pack includes the Hulk as Vegas enforcer Joe Fixit, future Hulk incarnation The Maestro, the Red-Green hybrid Composite Hulk and his the Subterranea-dwelling Barbarian Hulk. That's four Hulking figures in one set! Each Minimate stands 2 inches tall with 14 points of articulation, and comes with various interchangeable parts and accessories, including alternate helmets, capes and jackets! (SRP $19.99)
So, what are you picking up?
Continue Reading >>> Source link